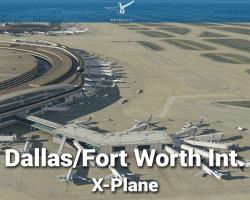 Media Format

Immediate Download

Compatibility

X-Plane 11 / X-Plane 10.50

File size

280 MB
For anyone looking to take a flight to the United States of America, Fort Worth International is worth your time. Covering a whopping 18,000+ acres of land, this is one of the largest airports in the world. Coming in as high as third place in the global size charts, this airport actually manages to take up more space than Manhattan Island. Now, this gargantuan airport comes to life for users of X-Plane 10.50 and 11.
With a huge amount of detailed included, this brings to life an immensely important airport. With over 680,000 aircraft movements in 2015 alone, it's the third busiest airport on the planet. All seven runways, five terminals, one hundred and sixty-five gates, and three control towers are all included.
As far as making Fort Worth International feel in size, this is the perfect place to start. Close to 1,850 flights come through here on a daily basis. This allows for you to enjoy something totally different to what you might be used when you come to visit Dallas Fort Worth International Airport. It's also home to American Airlines, the largest and most commonly visible airline in the world.
For flight enthusiasts who wish to make airport trips feel a touch more immersive, try this. You will find that the airport finally matches the size and scale that it should, with far more activities taking place as you fly over and take-off.
With immense attention to detail and significant changes throughout, you should find that Dallas Fort Worth International Airport finally feels as big as it should.
What's New?
Highly impressive 4K textures used when possible to help improve performance and visual quality.
30cm/pixel ortho imagery and 1cm/pixel ground details included.
Thousands of new images included with new objects hand-placed for effects such as cars and effective street lighting.
New add-ons such as parked cars and terminal interior designs can be turned on/off.
Ambient occlusion and local illumination work alongside specular mapping for immersive detail across the whole airport.
Makes use of advanced X-Plane features such as 3D spill lighting for best effect.
New and improved lighting standards help to match up with FAA/ACI quality standards.
Improved new interiors for all terminals matched to architectural drawing.
Aircraft overpasses modeled across the International Parkway.
New animations included throughout, such as new passenger boarding bridges and also with Safedock® A-VDGS on all gates (AutoGate required).
Animated road traffic also included, with ATC and AI aircraft making use of the taxiway network added.
Compatible with X-Life plug-ins.
Submit a review of this product
Customers Also Purchased