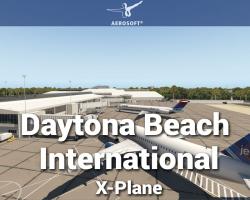 Media Format

Immediate Download

Compatibility

X-Plane 11

File size

520 MB
Part of what makes flight simulation such an enjoyable pastime is that you can see many parts of the world in rich, attentive detail. X-Plane 11 users can do so easier than ever, thanks to the heightened graphical standards of X-Plane today. For anyone who chooses to fly to the sunshine state of Florida, though, arriving at Daytona Beach might not produce the optimism you had hoped for.
Arriving at Daytona Beach International normally, a distinctly lifeless and generic airport awaits. With this add-on, you can finally make sure that your Spring Break is more enjoyable than ever before. You can enjoy taking a tour over the Speedway Track to see the amazing races that take place or you can fly over the Daytona Beach area and just enjoy a richly satisfying view of this sun-kissed location.
Also, airport corrections were included for anyone heading over to the Lafayette Landings Airport. This adds some key changes here, making sure that it now looks much more realistic and matches up with the real thing.
What's New?
A comprehensive recreation of Daytona Beach International, with a total reworking of the Lafayette Landings Airport to improve aviation across the area.
Newly improved and accurate detail on all buildings, making sure that you can easily spot landmarks in the area and within the airports themselves.
Interior designs for all airport terminals are included, creating a much more realistic and satisfying looking airport atmosphere
High-resolution textures used to help match-up with the accurate layout of the ground of the whole area. Impressive textures taken on-site.
New PBR effects used to help make sure all parts of the add-on look as realistic as possible, mimicking authentic visuals, shadowing and color schemes.
Environmental coverage achieved using satellite imagery to help make sure as much of the surrounding area of Daytona Beach is transformed.
Impressive atmospheric changes help to make sure that the whole environment is animated and looks much more realistic in line with Daytona Beach in reality.
Customized bridge models add extra detail and realism to the whole airport and Daytona Beach area, bringing it to life and adding in key landmarks.
Animated jetways included Safedock A-VDGSs, as well as marshallers at all gates (requires AutoGate by Jonathan Harris).
An important quality of life changes ensures all parts of the Daytona Beach area now more accurately reflect their real-life counterparts whilst maintaining high FPS rates.
Submit a review of this product