Weather Preset Pro: Advanced Weather Add-on for MSFS

6 reviews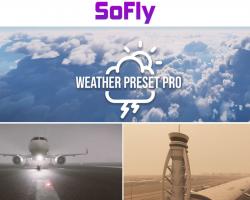 Media Format

Immediate Download

Compatibility

Microsoft Flight Simulator (MSFS) 2020 Release

File size

20 MB
A simple but highly useful tool from the dev team at SoFly. This tool will be useful for every virtual aviator - making setting weather in Microsoft Flight Simulator a breeze.
Complete with over 50 predefined weather scenarios (details below) - all you have to do is choose a preset within the sim and all of the advanced weather options are chosen for you automatically for that preset.
This tool has been designed to allow you to fly with all-new weather presets without the need to create your own or rely on live weather. Let your imagination run wild and experience even the most unrealistic flights, from humid sandstorms in the Arctic to frosty blizzards in the Serengeti.
Making MSFS Weather Easier
Experience torrential tropical storms, harsh hurricanes, and brutal blizzards all with the click of a button thanks to Weather Preset Pro.
Weather Preset Pro goes beyond what is possible with the built-in tools to provide 50 brand-new weather presets to Microsoft Flight Simulator.
Weather Preset Pro is the perfect way to try out challenging conditions anywhere in the world. Land at difficult airports in zero visibility or test out your skills with gusty winds sweeping your aircraft from side-to-side.
Content creators will be able to also quickly jump between stunning clear skies to towering storms for those incredible cinematic shots.
So whether you're looking to experience the crisp morning dew air or battle through terrifying sandstorms, Weather Preset Pro will enable you to let your imagination run wild.
Features
Over 50 presets covering a range of exciting weather types
Custom made presets that go beyond the built-in system
Create exciting scenes directly in the simulator without the need for an additional UI
Simple installation using a dynamic installer
A 20-page manual covering all variations and an introduction to METARs
Presets Included
Challenging weather presets

Sandstorms
Zero Visibility
Hurricane conditions
Tropical storms

Stunning cloud presets

High-level clouds
Overcast
Big and Bold

Tropical paradise presets

Blazing Sunshine
Calm Winds
Humid Storms

Snow and ice presets

Snow Flurry
Arctic Chill
Blizzards

...and many more!
Updates
Below are the latest updated, version releases and changelogs for this software.
Existing users/purchasers may download the latest version in their SimShack order history pages by clicking on "Download Latest Version".
Update 4th November 2020 (now version 1.10)
We're pleased to announce that Weather Preset Pro has been updated to version 1.10. This new version fixes a handful of bugs, adds a few new changes but most importantly, expands on the original 40 presets. Weather Preset pro now includes 50 weather presets for users of Microsoft Flight Simulator and enables them to quickly and easily apply a huge variety of weather scenarios to test their skills or capture the perfect shot.
The new presets include additional jetstream presets, additional visibility conditions, new storm formations, and also wildfire conditions.
Whilst we're excited by the new presets, we're also pleased to have found better ways to implement some of our ideas in the previous build and used new techniques to make them more visually appealing and realistic to fly through. We have toned down some of the harsh winds from some of the conditions and improved how your aircraft controls during those stormy approaches.
NEW - 10 New weather presets including Wildfires, Towering Clouds, and Shallow Fog
ADDED - New content to the manual to bring in-line with new presets
CHANGED - Installer now notifies when successfully installed into the simulator
CHANGED - Numerous changes to various weather presets to make them more realistic
FIX - Fixed various issues with uncontrollable aircraft in certain scenarios.
Customer Reviews
Rated 4.5/5.0 based on 6 customer reviews
11/16/2020

2

/

5

Verified Purchase

Its, though, very cheap product and has a lot of presets but I didn't like the quality texture very much. It strikes me as if I'm still playing 10-20 yo simulator with these presets. Default Weather presets are pretty good already. I was hoping it to be something like Real Environment Extreme for Flight Sim but its not. Light Fog, Dense Fog, Low clouds and many others look exactly the same and has many linear lines across the horizon. I guess we could use the presets and tweak them to our likings. Thanks My specs Ryzen 9 x3500 RTX3090 on Meg X570 ACE.
11/12/2020

5

/

5

Verified Purchase

Simshack purchase is super smooth and fast. 5 stars. Weather Preset Pro is an excellent addition for MSFS 2020 adding many easy to use presets that can be applied on the fly super fast. Very impressive for a very low cost. One of the better buys I have made for a long time. Thanks.
10/24/2020

5

/

5

Verified Purchase

Absolutely fantastic add on you must have to get this at £4.99 this is the cheapest and best weather add on I have seen in years and MSFS weather is good but the extra you get with this add on is out of this world . Buy it and have a whole load of fun.
11/12/2020

5

/

5

Verified Purchase

I am 75 years old Simmer from 1982 the rest is the history, I have hoped and dreamed for 38 years for this beauty. I can only say thank you. I just want to create cinematic wonders. Superb creation gentleman.
11/16/2020

5

/

5

Verified Purchase

With so many different settings possible in MSFS, this app is brilliant I can easily set the weather now. It would have taken me ages to work out the settings. £5 well spent.
11/16/2020

5

/

5

Verified Purchase

Down loaded with no problem. Easily installed. Works as advertised. Fine product.
Submit a review of this product
Customers Also Purchased