Airbus A340-500/600 for FSX/FS2004

1 reviews


This addon is compatible with
Microsoft Flight Simulator X
. It should also work with
Microsoft Flight Simulator X: Steam Edition
. Some developers have explicitly stated compatibilty with Steam Edition but others haven't. Check the product description below for guaranteed compatibility. Just because it doesn't mention it, this does not mean it will not work with the
Steam Edition
.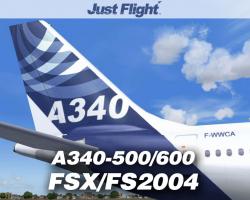 Media Format

Immediate Download

Compatibility

Microsoft Flight Simulator X & 2004

File size

203 MB
As part of the latest range of aircraft released by the popular Just Flight, this addition to the F-Lite range will give you all the power and speed that you need to get into the skies and make a genuine difference to your flight simulation experience. The simulator is the perfect way to keep learning and developing your skills as a pilot, and with the help of this realistic Airbus A340 package you can get the closest thing to the real world equivalent with this package. Designed specifically for educational use and to give the most impactful and realistic experience possible, it offers a challenging yet enjoyable way to take to the skies in ways that you most likely never have before in a flight simulator!
If you want to experience a new level of detail and realism when flying one of the many Airbus packages out there, start with this section. It gives you a simple flight simulation aircraft to get used to that lets you see the full potential and power without having all of the knowledge of a pilot. If you find that many of the aircraft in the car have dubious or difficult systems that require far too long to learn and develop then you might want to consider using this system as it provides you with all the realism it can without making it an Everest to learn and truly enjoy.
The F-Lite range takes aircraft that are hugely popular on the market and makes them in a way that is both feasible and simple to manage and enjoy, taking away a lot of the intense difficulty and providing you with assistance when and where you need it. When you add together the increased yet streamlined functionality of the aircraft with the brand new HD textures that are compatible with DIRECTX 10, you have one of the most balanced aircraft out there to use within FSX or FS2004.
With all the new features included you are likely to find that this aircraft has more power than the traditional aircraft in the simulator yet it's every bit as easy to use, if not easier than before! Add to the development and simplicity of your own flight education by using the e best tools possible including the various awesome features and inclusions provided with this A340 package, made to give fans of Airbus something new and dedicated to try out and master over the coming years.
Key Features
Many hours of dedicated research, development and improvements have been put in place to make a highly realistic model both inside and outside. The exterior has been reviewed time and time again, using up-close reference photos and footage of the aircraft to get every last window size and bolt put into the right place to make the aircraft look nigh-on perfect as you fly through the skies

Virtual cockpit has been made to offer you as much versatility and ease of use as it possibly can, giving you access to every feature that can be legitimately included to make sure that if you ever fly the real thing you should already be familiar with the layout of the buttons and the relevant controls that are required to fly the aircraft properly

Wing view included so that you can easily see the world as you would in the real thing – you won't be able to see past the wings in a real aircraft and we make sure this is the case here if you wish, giving you extra layers of realism when you are flying through the skies

Virtual cabin included with new animations and realistic additions included to give the aircraft a genuine organic lease of life about it – nothing feels forced or as if it's just repeating over and over, instead making sure that you have an aircraft that has a life outside of when you are using it, making sure that it feels authentic as you fly

Tyres and other additions have been made to actual sit properly – in previous editions and some of the default aircraft, the wheels hover off the ground. This package ensures that the aircraft only take off into the air when you are ready!

Actual A340 sounds have been used to create this package giving you something that actually sounds like the real thing, as it uses genuine sounds that have been take either from footage or from being near the aircraft as they take off and fly away

Realistic features and attributes – the speed, weight, performance and overall quality of the aircraft reflects the real thing perfectly, giving you an aircraft that looks as real as it feels when you first take over the cockpit and fly off for the first time

Hundreds of tiny adjustments made along the way that make the aircraft stand out more than ever when compared to the vanilla editions of the aircraft in the flight simulator

New special effects included to make sure that your aircraft looks the best that it possibly can including smoke as the engines ignite and get used, or the smoke from the tyres as it screeches across the tarmac when you first land

Printed manuals that come with all the help that you need including full flight procedures so that you can understand how to use the aircraft to its very limit and potential

New animations made from scratch that make sure the aircraft looks and feels alive both on the inside and the out, adding another layer of realism to proceedings

Dynamic design features added in to mix with the amazing quality of the texutres meaning that you get an aircraft that reacts properly to the world around them, giving you a truly dynamic performance that looks every bit as good as it should when the sun beats off the side of the aircraft etc.

Layered paint kit included that helps you create your own livery designs so long as you have key paint programs like Photoshop
Customer Reviews
Rated 4.0/5.0 based on 1 customer reviews
07/10/2018

4

/

5

The only airbus cockpits better than this are Aerosoft. Love the vc

Cockpit:9/10 Dynamics:9/10 Exterior:9/10 Sound:10/10

Overall:8/10
Submit a review of this product
Customers Also Purchased