This addon is compatible with
Microsoft Flight Simulator X
. It should also work with
Microsoft Flight Simulator X: Steam Edition
. Some developers have explicitly stated compatibilty with Steam Edition but others haven't. Check the product description below for guaranteed compatibility. Just because it doesn't mention it, this does not mean it will not work with the
Steam Edition
.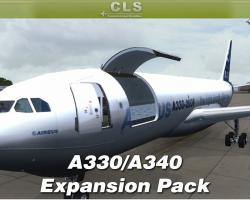 Media Format

Immediate Download

Compatibility

Microsoft Flight Simulator X & 2004 with CLS A330/A340 Base Product

File size

360 MB
In order to use this expansion, you must have the CLS A330/A340 Base Product installed first. You can purchase that here.
Finally available for flight simulation usage for all fans of the A330, this excellent expansion package makes it easier than ever to start developing and learning about the world of the A330. So whether you have used this aircraft for years as a real-life pilot or you've just arrived here for the first time curious to learn more, this will give you the full simulation experience that you are looking for.
Included in this package is the A330 cargo variant of this aircraft, as well as the MRT RAF variant. To give you even more choice, though, you'll find that the A330-200 model is available as well now. It comes with a whole new tail as well as a litany of other nice little extras that can make flying the A330-200 even more enjoyable. Additional features have been included such as 3D lighting, authentic cockpit audio and many more simple additions that help to make the entire package as strong as possible.
So, if you want to give yourself the perfect flight simulation experience you should consider picking up this excellent package – it's all that you need to make a genuine difference to your development and education in the A330!
Key Features
Several different A330F models that utilize the power RR and PW engines. These individual engines will give you a whole new flight dynamic, making it easier than ever to actually use. Additionally, you'll get access to various repaints with six overall waiting for you to enjoy!

5 different models of the A330-200, which differ in things like the window arrangement, the individual paneling, and the way that they actually work in the air – it gives you more powerful than ever before when up in the skies

Reworked sound packs that take hours of footage and real-life experience to make sure that each audio file is attributed to the appropriate individual – these are authentic sounds from an RR and PW engine

New cockpit sounds that make the aircraft sound just as it would have in the real-life event

Reworked cockpit instruments that make sure you are hitting the heights that you should be, giving you total control over your A330 and how it's going to operate at any given time

Landing and taxi lights have been created to make sure the airports are as realistic as the real thing

Night lighting to make visibility far more effective than before – you'll never find flying in the skies to be a visual challenge ever again. The beacon light effects make this to be more effective than ever before, ensuring that you can land at any airport, in any condition

Reverser spray effect has been included to add that extra level of refinement to the entire process
Submit a review of this product
Customers Also Purchased