This addon is compatible with
Microsoft Flight Simulator X
. It should also work with
Microsoft Flight Simulator X: Steam Edition
. Some developers have explicitly stated compatibilty with Steam Edition but others haven't. Check the product description below for guaranteed compatibility. Just because it doesn't mention it, this does not mean it will not work with the
Steam Edition
.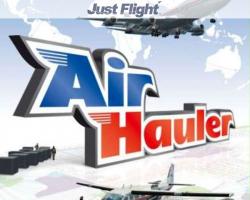 Media Format

Immediate Download

Compatibility

Microsoft Flight Simulator X & 2004

File size

56 MB
Looking to create a better flight experience for yourself? Then whether or not you are using Flight Simulator 2004 or Flight Simulator X, this will give you unprecedented to the world of an air hauler and give you new features, new aircraft and new objectives to be met made with stunning realism and professionalism. Just Flight are one of the most prominent and respected names within the community and tend to create high-end packages regardless of what they make, but this Air Hauler Expansion gives you everything that you need to really enjoy the world of running your own freight company!
Whether you want to take control of things from the boardroom or you want to get the shirt & tie on and take over the aircraft yourself is entirely up to you, but the huge possibilities that come from this excellent addition to the flight simulation package already available can revolutionize the experience for even the most seasoned and varied of flight simulation experts. The huge amount of flexibility provided within the package allows you to take over the miniscule details that will make or break your business. You need to make sure that every flight succeeds otherwise your reputation will plummet and you will find it impossible to become a steady and successful freight firm!
You can take on the flights personally or you can use your expanding cash flow to hire up AI pilots to do it for you. You can even list your company on the stock exchange and start trading shares, using real world NYSE/FTSE/DAX prices that are brought live into the game as you play, and even risk putting yourself up to the eyeballs in debt chasing the dream of big time contracts & long-term success!
The expansion will keep track of your progress and style of play as you go, ensuring that you are able to get the right information whenever you require it. Whether it's your financial activity for the year in terms of aircraft bought or how much you sink away every month covering those crucial loans, or even your insurance policies, keeping track and control of your aircraft is going to be incredibly important as the right aircraft can make your finances much easier to manage in the long-term!
As the pilot, you need to make the decisions on where you will be going and how you will get there. Should you risk going the full distance in one go or should you stop up and make it a little late, but definitely safe on arrival?
With the cost of fuel rising and dropping with real-life prices, you get all the help that you need to make the ownership of your own company as difficult as possible!
you'll also need to consider the immense problems that real-world weather conditions will put on you – everything included in this package to make it one of the most authentic and attention grabbing selections out there for totally altering your experience on the flight simulator of your choice!
Key Features
Available to use with any airport in both FSX and FS2004, giving you total control of where you will fly from and what system you will be playing on

Balance your earnings with your outgoings just as a real firm would need to, giving you an extra challenge along the way that can add to the whole procedure and make it even more engaging than before

Take out financial loans and risk your reputation and your liquidity in a bid to get bigger contracts, better aircraft or extra air base quicker than you originally planned

Lease or buy second half aircraft when money is tight and you need to get some contracts finished, without having the right type of plane for the required job

Take out insurance to make sure that your pilots don't cost you more than reputation, and also to cover yourself financially from any accidents that occur – any problems will come out of your pocket directly without the help of insurance companies!

Build up slowly from smaller jobs that nobody wants to the big-time contracts that can be worth millions of dollars on each run, giving you an immense scale of the style of jobs that you can take on at any one time

Take jobs in single or multiple trips depending on what aircraft you have available and how much you need to actually carry – this makes the simulation even more challenging as you need to think logically

Fly multiple jobs and take on more than one flight at any one time giving you incredible productivity while ensuring that you are flying safe and sound along the way

Park up at an airport and continue your quest for the ultimate freight firm another day with a simple save feature that's easier to manage

If you use any kind of real world weather add-on, the simulator will pick up real-life weather readings to give you the most accurate news possible for any given flight so that you know if taking off is the best idea or if you should put it off

Total integration with Google Maps, allowing you to see where you are and what lies below you, making it easier to learn the lay of the land while you go!

Talk to other Air Hauler players while you fly through the skies of the world, making it even more enjoyable as you see who is doing well and who you are competing with!

Trade shares and risk your company's future with a boom/bust share issue that could seriously bring in the investors or leave you covering a massive shortfall of needed cash injection pretty quickly

Realistic and authentic additions to each and everything in the game gives you a far more delicate and improved version of the original flight simulator of your choice – this makes it easier than it ever has been to use a business-related mod within the simulator system
Submit a review of this product
Customers Also Purchased