This addon is compatible with
Microsoft Flight Simulator X
. It should also work with
Microsoft Flight Simulator X: Steam Edition
. Some developers have explicitly stated compatibilty with Steam Edition but others haven't. Check the product description below for guaranteed compatibility. Just because it doesn't mention it, this does not mean it will not work with the
Steam Edition
.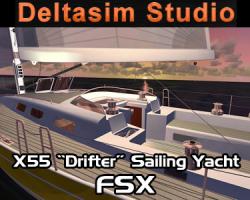 Media format: Immediate Download
Compatibility: Microsoft Flight Simulator X
Filesize: 36 MB
X-Yachts are a big time yacht company that specializes in the creation of sailing yachts. Whether it's for cruising along the ocean and enjoying the view or taking in a tight race with some friends/competitors, you'll be able to enjoy the madness of being on the seas like never before with this modification. This takes on the famous X-Yacht X55 Drifter, which was one of their most popular creations having been released in 2007.
The X55 itself on went to win many different awards, such as the European Yacht of the Year Award. This is due to the enigmatic performance of the vehicle, and now you can try it out for real!
Specifications
The X55 drifter was well regarded when it was first released thanks to its comprehensive style and effective way of managing the world around it, whether the waters are rough or fairly smooth. This is mainly caused by the fact that the boat is 55ft in length, 14.9ft in width and 86ft in height. This large size makes it an especially comfortable part of your sailing boats, giving you plenty of room to enjoy the view

10.5ft draft makes it nice and secure in the water, allowing you to cruise along with the minimum of fuss whilst you go and ensuring that you have a level of comfort and discretion when on the water

A displacement of around 38.9816lb

600 gallons of fuel of to get it through even the longest journeys, allowing you to take your time on the seas and just take in the wonderful view surrounding you

110HP engine keeps you chugging along nicely with this fine piece of kit, helping you traverse the water at fairly decent speeds

Fully equipped with features and additions both inside and outside the cabin, giving you a truly resplendent looking deck that covers all of the things you may have expected to have seen

2x one touch starter switch to set the sail and a 2 x engine on touch switch to get things going even quicker!
Key Features
110MB of high-end data put into a comprehensive and polished model of the X55, creating an easy to believe recreation of a popular form of racing and sailing boat

All 55" of this brilliant aircraft is managed and manipulated into an attractive and quality looking equivalent of this popular sailing yacht

New dynamics have been created from scratch to ensure that the boat itself does not just look the part, but it feels that way as well. It's quick and decisive, can be managed with relative ease, and has all of the excesses and qualities you may need to really get a feel for the difference between a boat and an aircraft

New spray effects are added so you don't feel like you are just floating on the water – as a total conversion from FSX, this manages many of the minor details to help create an atmosphere that would not look out of place in a boat simulator

New taxi lights added for easier vision and to ensure you can see where you are going

Hours of research, study and testing has made sure that this boat feels like it's actually on the water – it captures that feeling just as well as the aircraft in FSX capturing the feeling of being in the air

Tooltips fixed up to make sure you can get the kind of help that you need to understand what each object you go to use will make sense within the context of using a boat instead of an aircraft

New engine properties to make the massive change needed form one vehicle to the next, ensuring that it feels, acts and sounds like a boat engine

New sounds are made entirely from scratch, using the authentic sounds from the real X55 to make something that sounds excellent and performs even better in the long-term

Background GPS has been mastered to make sure it carries all of the attributes of the real thing in the most authentic detail possible – now you never need to find yourself lost out on the great seas again!

Faster movement on the deck included for simple and effective movement from one area of the boat to the next, saving you time during these journeys

Many minor and major fixes have been added to maximize the quality and effect of being on-board a boat instead of using a plane, as so many changes to the ruleset and the dynamics have been included for the ultimate level of control when using this sailing yacht

1 model with four unique variants included, ensuring that you can move around the seas in something that truly fits with your own style and personality

HD textures created for each model ensuring that it looks the best it possibly can, pushing the FSX model quality even higher than it was previously and ensuring you have the kind of high-end detail that you need to really look the part

Moving parts that create an attractive look and feel throughout, ensuring that you have access to things like the mainsail with boom, the foresail, ropes, rudders and throttles

Likewise, you'll have access to gauges, switches, doors, hatches, cleats, flags and ladders to give you an animated and stunning looking boat that ticks all of the boxes you would have been hoping for along the way

The ability to take full control over the set sail function, the boom trim, the mooring cleats, the overall speed of the journey, reverse engines, turning, leaning and lighting for the most dynamic and clear control possible

A virtual cockpit with full 3D gauges, switches and instruments to make that perfect looking boat that really captures the attention of anyone who tends to be using it at that time

Detailed documents that will act as a strong tutorial for learning and improving the nature of the X55 itself, ensuring that you will find it incredibly easy to control the boat as you would have imagined
Submit a review of this product
Customers Also Purchased