Sailing Catamaran for FSX

1 reviews

This addon is compatible with
Microsoft Flight Simulator X
. It should also work with
Microsoft Flight Simulator X: Steam Edition
. Some developers have explicitly stated compatibilty with Steam Edition but others haven't. Check the product description below for guaranteed compatibility. Just because it doesn't mention it, this does not mean it will not work with the
Steam Edition
.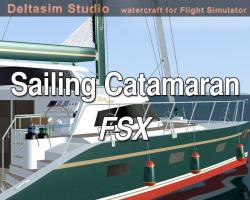 Media Format

Immediate Download

Compatibility

Microsoft Flight Simulator X

File size

154.9 MB
One thing that many people might not be used to when they first start using FSX is the possibility of also using boats and going around the seas instead of the skies. Of course, like any good simulator, the ability for change and adaption is very much there and with FSX, you can now add a stunning Sailing Catamaran boat to your collection of objects to use at any given time. This package, created by Deltasim Studios, is specifically for FSX and manages to capture all of the little features and extras that make Catamaran boats so incredibly popular with both flight and naval simulation fans.
If you have always wanted to take to the seas in FSX and see just how different the world can look from this perspective, then you can enjoy all of the crazy additions and features that are included within this package. Intricately designed and accurate to the real boats that these are based on, this remake of the Sailing Catamaran makes an incredibly big difference to how you'll be able to perceive boats in FSX.
Whilst the seas have plenty of life on them, you can now become part of that extra atmosphere using a truly intricate remake of a popular form of boat.
Catamaran boats are well-received by many people because of the level of comfort they typically exhibit during any kind of journey. They are also extremely efficient in terms of heeling, so you'll be able to stay comfy whilst you bob along the seas. Their increased speed and stability in comparison to many of their contemporary naval companions means that using the Catamaran is a necessity rather than a choice for many ship captains out there – and now, you can experience this unique form of sailing, too!
Specifications
Much like the real thing, this Deltasim creation takes on all of the attributes of the real thing and implements them into this brilliant recreation of the Catamaran. This includes things such as;
Realistic dimensions of (LWH/m) 17.5, 8.6, 25.0 to give the boat a realistic scale
Draught of 0.95m
800p of fuel
75HP engine
Maximum speed of 33 knots
These simple specifications make it nice and easy for those who own the real thing to get to grips with this kind of boat fairly quickly, due to the fact it represents the real thing in such an authentic manner.
Key Features
By using close to 820MB of data within the installation file, you'll have an incredibly detailed part of the FSX experience added in more or less from scratch. This provides you with rich detail, realism and added features in the full package to make getting used to the program as easy as it possibly could be

A whole range of moving parts are also included – this makes the boat feel far more alive than some static shell. In turn, this improves the whole feeling and scale of the FSX experience whilst ensuring that you get to see the boat look as realistic as possible. The parts that are going to be moving include things such as the sails, rudders, throttles, gauges, cleats, flags, TV screens, crews, fenders and even the engine. This ensures a whole new level of diversity throughout the experience that looks so much better than ever before

Various new sounds have been included, too – this adds in things like switches and slideshow music to help the whole thing come to life perfectly to ensure that you get that fantastic domestic feeling when you are aboard this boat instead of the rather hectic sounds you'd hear on a plane

Many aspects of the boat can be controlled too. this gives you access to alter everything from the speed and the turns & leans to alter the pace of the boat, right down to things like the lights, ladders, cleats, fenders and even the anchor! Best of all, you can control the TV set and the radio to make them as loud as you want

A virtual cockpit panel has been created more or less from scratch which allows the boat to be utilized fully by you. With 3D gauges included on the boat as well as various switches and instruments to use, you'll have more or less the same control that a real captain would if they were to be using one of these things for real

An active crew that work around the boat with you, adding an extra layer of life and flavor to the journey

A one-touch starter engine that makes taking off with this boat something that takes a matter of seconds, not minutes as it can with some of their aerial brethren

8 specific models are added in here to give you a nice variety on what the boat will look like, due to the wide ranging nature of the Catamaran. Likewise, it comes with 2 variants as well – this, in total, gives you 5 tourist and 3 racing equivalents so whether it's a simple journey around the waters or a race with some friends, you'll have no trouble using these various models

Specific documentation to help those who aren't sure of what they are doing to get used to the way that the boat runs and the way that it should be managed. If you are new to the seas, this can be very useful in getting to grips with this unique boat type
Special Additions
12 pieces of unique music have been added in for the slideshow – simply go through them until the find that the on that you like the most. This makes it much easier toad an extra bit of life and vitality to the journey, making everything far more comfortable

23 unique flags have been prepared and ready to use, presented in a high-quality DDS format. This includes the following flags;

Argentina
Australia
Belgium
Brazil
United Kingdom
Canada
Chile
Denmark
Finland
France
Germany
Greece
Holland
Italy
Japan
Mexico
Norway
New Zealand
Poland
Portugal
Spain
Sweden
USA
Customer Reviews
Rated 5.0/5.0 based on 1 customer reviews
12/17/2016

5

/

5

Can't wait to get a new copy and get sailing ⛵️ Vvvvvvvvvvv
Submit a review of this product