This addon is compatible with
Microsoft Flight Simulator X
. It should also work with
Microsoft Flight Simulator X: Steam Edition
. Some developers have explicitly stated compatibilty with Steam Edition but others haven't. Check the product description below for guaranteed compatibility. Just because it doesn't mention it, this does not mean it will not work with the
Steam Edition
.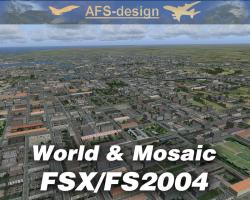 Media Format

Immediate Download

Compatibility

Microsoft Flight Simulator X & 2004

File size

45 MB
AFS-design brings a excellent scenery package of "World & Mosaic" for FSX and FS2004.
The "World & Mosaic " scenery contains an all included package of new global textures with a new mosaic technique. The normal resolution is 4.7 m per pixel. With the application of pixel-perfect mosaic series, the resolution is doubled. For example, all roads / paths / buildings calculated and set exactly to the width of 4.7 m. The result is a dense Photo Texture with a very high sharpness.
The sharpness is supported by accurate placement of autogenous buildings and trees with the help of the program SDK Annotator from Microsoft. Perfect fit the maximum possible 300 buildings and 600 trees per texture are set. The arrangement is very dense and varied. All types of buildings , such as tall buildings , townhouses , factories , gas stations, churches, etc. are arranged exactly.
For remote display, all textures are provided with specially designed mipmaps. They slide neatly over the horizon. MipMaps is an anti- aliasing technique for textures. It contributes significantly to the improvement of image quality and speed. Especially on slower PC systems is to feel the better speed ( frame rate).
Improvements:
More beautiful mountain ranges and mountain landscapes
More varied forests
Much higher frame rate by smaller bitmap textures
New World textures in mosaic form:
Towns, villages and field textures
Roads and paths in mosaic
Houses and land with precise demarcation
Fields with sophisticated sharpness grid
More than 2000 mosaic textures for all seasons
Over 200 different parks
Over 70 different parking
Over 500 different shopping centers
About 5 different road tunnel
Over 5000 different residential blocks
Over 1000 different industrial areas
And much more
New world textures with sophisticated sharpness grid:
Forests and meadows with lightening mipmaps: horizon resolution
Steppes and deserts with reddish becoming mipmaps: desert climate
Mountains and glacier with lower contrast mipmaps: cold climate
Over 1700 sharpness raster textures for all seasons
And much more
New light textures for the night flight:
Towns, villages with a great night atmosphere
Roads with new lantern lighting
Beam of motor vehicles.
About 2,000 light textures for all seasons
And much more
New autogenous Annotator files (.agn) for autogenous setting of buildings and plants:
Up to 300 buildings and 600 plants per Texture: Extremely high detail effect
Precise setting of the buildings on the demarcating land
Perfect setting the plants on forest land: needle - and deciduous forest.
Precise setting of palm trees and cacti: steppes and oases
Highways & road textures with visible vehicles
Varied buildings , such as houses, skyscrapers , factories , gas stations, schools, swimming pools and churches
Different for all seasons and for all regions of the earth
There is a unique photo-realistic representation
And much more
Bonus
BOEING 747 with Industrial House repaint
Submit a review of this product
Customers Also Purchased