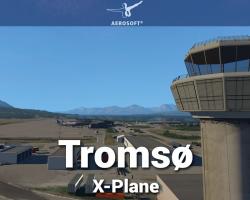 Media Format

Immediate Download

Compatibility

X-Plane 11

File size

881 MB
Taking a trip to the stunning Norwegian city of Tromsø is always a fun experience, especially in X-Plane.
However, users might find that the city does not quite live up to its excellent reputation within the simulator. Often, the airport and the surrounding areas can look muddy, worn out and without much character. This is totally different from the real thing.
If you would like to make a flight to Tromsø feel more endearing, then, this add-on provides some much-needed realism and life into the wider area.
This add-on improves the whole location, combining together the work Jo Erlend Sund and Stairport Sceneries. This makes sure that X-Plane 11 users can now fly into this popular destination and enjoy a much more authentic recreation of the island Tromsøya as well as the surrounding areas: Tromsø Airport included.
With a whopping 121km2 of surface covered, you can quickly make the most of a flight here.
The whole location is transformed, with high-resolution textures used which are in line with X-Plane 11 standards. highly impressive adjustments are included across the whole area, with new bespoke models made from scratch to really add some life to the surrounding region.
Keep in mind that Tromsø Airport regularly deals with over one million passengers in a calendar year. It's this importance that should make you wish to make use of this Tromsø add-on, and make a very important part of northern Norway come to life like it never has in the past.
What's New?
A detailed and refreshing take on the Tromsø Airport, with high-resolution imagery across the airport boundary included.
Also, surrounding areas can make use of a hugely impressive 121km2/50cm/pixel coverage level across the majority of Tromsø.
Fresh new buildings included helping make the airport and the whole of Tromsø look a lot more Norwegian in terms of building designs.
Authentic building textures improved with the use of baked shadows to help add an extra sense of realism to the whole location.
Impressive interior work has been put in place, too, with many adjustments made to the terminal interior overall.
Custom aircraft traffic sits around the airport, with static models chosen in relation to their likely usage at Tromsø in real-life.
New and improved animated jetways included for those who have the AutoGate plug-in.
Impressive new 3D grass add-on makes sure that the whole area, not just the airport, will carry a greater sense of realism and detail.
Fully compatible with regular add-ons such as World Traffic 3 and TerraMaxx.
Submit a review of this product