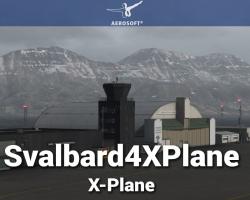 Media Format

Immediate Download

Compatibility

X-Plane 11

File size

1.8 GB
When flying across the archipelago of Norway, it can feel rather bare. Despite being a hugely diverse and exciting part of the world, X-Plane11 does little to build upon that reputation. Thankfully, this Svalbard add-on for XP11 helps to change that entirely. Now, instead of being the dour and dull isles that once stood here, users can enjoy a far more vibrant, satisfying experience.
Not only does this unique part of Norway take on a new appearance, itís far more in-scale. The Svalbard Isles are poorly represented previously, which is changed and improved thanks to this addition. From 71-84į northern latitude, just north of the Polar Circle, users can now enjoy a much more realistic take. Previously, X-Plane11 didnít even cover this particular part of Norway.
Not only does this help to fill in a sizeable hole in the database, it helps to add a very rich, culturally diverse destination to come and visit. With all of the airports and heliports in the region from Svalbard Iufthavn to Longyear, Alesund and Pyramiden now changed, Svalbard is much more authentic.
Should you wish to see a large part of what makes Norway so diverse, this take on Svalbard showcases itís perfectly.
Whatís Changed?
A totally new development included that helps to make sure that Svalbard now fits on the XP11 map. Previously, there was nothing here on this particular part of the map.
Highly realistic development that takes in an incredible 61,000km2 of detail, precision, and craft along the way.
Highly improved and authentic meshing is used to help make sure that glaciers, coastlines and the like all stand out and look just as they should.
Localized terrain details are changed and improved, with areas nearby all of the airports specifically worked on.
Highly detailed airport models are included, ensuring that every airport comes with unique buildings, an authentic layout and a deeply optimized range of airport-specific features.
Photorealistic ground textures are used to help ensure that ground textures are as close to the real Svalbard as you are likely to see at this moment in time.
Winter season and nighttime details are included to make sure that the airport(s) adjust to help fit in with the time you are flying at.
Fully compatible with major traffic apps such as World Traffic 3 for a more immersive, realistic experience.
Paintings of local airlines are used for various X-Plane aircraft to help fit in with Norwegian aviation as best as is possible.
Submit a review of this product
Customers Also Purchased