Piper PA-38 Tomahawk II for FSX & Prepar3D

1 reviews

This addon is compatible with
Microsoft Flight Simulator X
. It should also work with
Microsoft Flight Simulator X: Steam Edition
. Some developers have explicitly stated compatibilty with Steam Edition but others haven't. Check the product description below for guaranteed compatibility. Just because it doesn't mention it, this does not mean it will not work with the
Steam Edition
.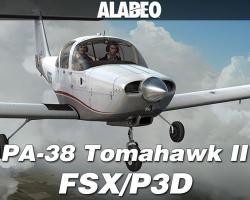 Media Format

Immediate Download

Compatibility

Microsoft Flight Simulator X inc. Steam Edition & Prepar3D including v4

File size

117 MB
The Tomahawk II is the most recent version of the Piper PA-38 Tomahawk, a two seat prop with fixed tricycle gear ideal for flight training and touring. The Alabeo development team, clearly understood that it would make a great addition to many pilots virtual hangars and went to work doing what they do best.
What they have produced is a solid package well worth some attention, especially from rookie pilots. While having a fixed landing gear affects performance in some regards, the flight dynamics of this aircraft have been accurately reproduced to match it's behavior. Since it's real life counterpart has a strong role as a training aircraft, it's digital counterpart can server the same purpose. It's a small and fun aircraft to fly and would be a welcome addition, or indeed first aircraft, to someone's virtual hangar. Even if not for training purposes, the large windows on all sides make the Tomahawk II a great choice for pilots exploring scenery or touring. Whether you're in the pilot seat or not, there are some spectacular views to be had.
Alabeo have created a high quality 3D model that holds a very well against anything you put it next to. The textures show a good amount of polish and offer some superb reflections and dynamic shines, especially on the propeller, which helps enhance your visual experience. The included virtual cockpit is cozy, but not cramped, and helps reinforce the scale of the aircraft when you're not using external cameras. It also reflects the fact that the Tomahawk II had better cockpit soundproofing than the original. Smaller touches, like an analogue clock on the cockpit panel showing the correct time help you immerse yourself in the simulated environment.
With 6" wheels and tires, the Tomahawk II has good propeller ground clearance, which means you can use this bird to tackle slightly rougher terrain such as grass and dirt runways, making it all the more perfect for exploring and touring. Whether looking to expand you virtual hangar with a new aircraft, or looking to start your collection, this is definitely a good choice. It accommodates rookies and ace pilots alike while being fun a versatile in the air.
Features:
HD Textures
Superb material shines and reflections.
Volumetric side view prop effect.
Dynamic propeller shines effect.
High quality 3D model and textures.
Blank texture for creating your own designs.
Customer Reviews
Rated 4.0/5.0 based on 1 customer reviews
04/06/2015

4

/

5

Verified Purchase

Great plane, but no GPS!!! I had assumed that this quality of plane would come with a shift # key for gps. I guess not. Otherwise, no complaints...good detail.
Submit a review of this product
Customers Also Purchased