This addon is compatible with
Microsoft Flight Simulator X
. It should also work with
Microsoft Flight Simulator X: Steam Edition
. Some developers have explicitly stated compatibilty with Steam Edition but others haven't. Check the product description below for guaranteed compatibility. Just because it doesn't mention it, this does not mean it will not work with the
Steam Edition
.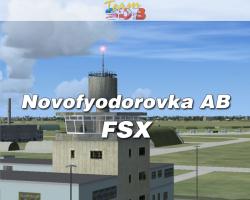 Media Format

Immediate Download

Compatibility

Microsoft Flight Simulator X inc. Steam Edition & Prepar3D

File size

21 MB
Novofyodorovka (English spelling varies) is a Ukrainian Air Force base (ICAO: UKFI) (formerly Soviet Naval Aviation) on the Black Sea coast at Saky, on the western Crimean Peninsula, Ukraine. It is several kilometers from the centre of Saky, and about 70 kilometres (43 mi) north of Sevastopol.
The Soviet Black Sea Fleet used Novofyodorovka as a major air base; however, the base was also home to the only Soviet aircraft carrier landing trainer and test site, the Nazyemniy Ispitateiniy Treynirovochniy Kompleks Aviatsii (NITKA), with arresting gear and a ski-jump ramp that is a full sized replica of the bow of Admiral Kuznetsov. It continues to be leased by the Russian Navy.
During the 2008 South Ossetia War, the President of Ukraine, Viktor Yushchenko, stopped Russian pilots from using the carrier training facilities. This decision was reversed in April 2010. The Russian Navy has begun to build a similar facility at Yeysk in the Krasnodar Krai region by the Sea of Azov.
The airbase has two parallel, south-west/north-east runways, a smaller east-west carrier landing facility, and an extensive 'dispersal' complex to the north and west. The main base hangars and workshops are to the west of the runway complex.
The carrier take-off trainer faces north-east on the northern parallel runway. The carrier landing trainer is on the south-west end of that runway.
The base is modelled as it may have looked pre-1989 in it's Soviet Naval Aviation days.
The scenery features
An operational NITKA ski jump by Mark Harper of ASL.
AI Su-33 Naval Flankers (Mark Harper of ASL) use the main runway.
Russian trucks by Tolmachevo TEAM
"Yugo" style HAS, hangars and rivetments typical of Russian airbases.
Weapons store and fuel tank farm.
Night lighting.
Submit a review of this product
Customers Also Purchased