This addon is compatible with
Microsoft Flight Simulator X
. It should also work with
Microsoft Flight Simulator X: Steam Edition
. Some developers have explicitly stated compatibilty with Steam Edition but others haven't. Check the product description below for guaranteed compatibility. Just because it doesn't mention it, this does not mean it will not work with the
Steam Edition
.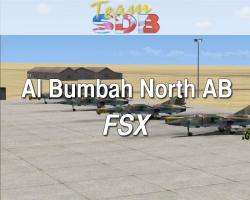 Media Format

Immediate Download

Compatibility

Microsoft Flight Simulator X inc. Steam Edition & Prepar3D

File size

7.6 MB
The Libyan Arab Republic Air Force (LARAF) or Al Quwwat Alijawwya Al Libiyya is the largest Air Force in North Africa. With Soviet assistance, the air force has been organized into medium bomber, fighter-bomber (ground attack), fighter-interceptor, reconnaissance, transport, training, and helicopter squadrons. The fighter-interceptor, medium bomber, and reconnaissance squadrons are located at bases along Libya's coast and along its border with Egypt.
Situated on the north east coast of Libya between Umm Ar Rizam and Al Tamimi, and 180 miles east of Benghazi, Al Bumbah North Air Base's runway at 11,155 feet is one of the longest in Libya. The base is home to two MiG-23 Flogger-E units: the 1st Fighter-Bomber Squadron of the Libyan Air Command and the 2nd Squadron of the Libyan Air Defense Command.
The MiG-23's shot down by two US Navy F-14 Tomcats in the second Gulf of Sidra incident in January 1989 flew from Al Bumbah Air Base.
The facilities are sparse and the accommodations appear to be dispersed. Surface to air missile (SAM) sites are located near the base for self defense. Air charter companies use the base probably to service the oil industry.
The Team SDB scenery consists of:
Full airfield layout with runway and apron lighting.
At each end of the runway are loops with 32 hardened aircraft shelters or HAS.
As an aid to navigation an NDB has been added (ID: BUM, Frequency 257.7)
AI and static MiG-23 Flogger-E's by kind permission of Phil Perrott of Virtavia.
AI and static C-130's used with the permission of Henry Tomkiewicz (HTAI).
Static Mi-8 Helicopters by Dimitriy Shnurov.
MiG-23 Flogger-E fighters and a C-130 transport fly touch-n-go around the air base as well as departing to other destinations.
Submit a review of this product
Customers Also Purchased