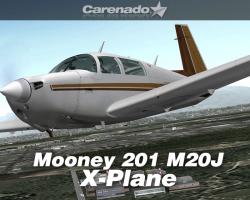 Media Format

Immediate Download

Compatibility

X-Plane 10.40 or higher

File size

103.2 MB
Now version 3.2.
The development team at Carenado have created a fantastic model of the Mooney 201, their first aircraft model specifically for X-Plane. This variant of the Mooney M20 was certified in 1976 and was marketed as the Mooney 201 because of it's top speed in level flight, of 201mph (323km/h).
The all metal, low winged Mooney 201 is an attractive aircraft with a good looking silhouette, and Carenado have matched it's natural aesthetic very nicely. The polygon optimized model is indeed accurate and three different liveries are included, that each compliment the shape of the aircraft by utilizing the popular pin stripe design.
The propeller is as close to the real thing as you can get, and it looks great through the windows of the interactive virtual cockpit. Certain touches they've added to the VC add a great deal of character to the aircraft. From the animated sun visors to the moving key ring, it really feels like your in the real thing. Made all the more immersive by the great flight dynamics that do a good job of reflecting the performance and behavior of a piston powered, prop-driven aircraft, and help create an authentic experience. A host of custom panels and gauges pad out the virtual cockpit. Including enough gear to afford the aircraft IFR certification, so you can feel safe to fly in all conditions. You can also use the VC to toggle yoke, which can be a big help depending on what input devices you happen to be using.
Custom sounds will make the Mooney 201 stand out from anything else you might have sitting in your hangar and help the aircraft become a part of the simulated environment.
The rest of the package is rounded off with the usual suspects, slightly more common place but still very much appreciated. Doors that open and wheels that role, beacons, navigation lights and landing lights ensure that you can get into the air and back on the ground safely. Also bundled in are documents for normal procedures and emergency checklists; Carenado are always sure to accommodate pilots of varying ability. So if this is your first time with an X-Plane add-on, don't worry – it's Carenado's too, and they did very well.
Now for users of Laminar Research's X-Plane flight simulator series is this stunning Mooney M20J 201 aircraft from flight sim developer Carenado. This is Carenado's first X-Plane aircraft, and what a beauty she is. With many advanced 3D effects, flight dynamics and full support of the X-Plane flight dynamics engine, this add-on will not disappoint the high expectations of the X-Plane user.
Features
Three different paint schemes plus a blank texture.
Polygon optimized model
Standard model
Four places
Internal dynamic reflexes and normal mapping effects
IFR certification
Includes: Interactive virtual cockpit
Full moving parts: Ailerons, elevators, rudders, flaps and trim tab
Animated Cowl Flaps
Rolling wheels
Opening doors
Animated Sun Visor
Navigation lights, beacons, landing lights
Custom sounds
3D pilot
Real Propeller
Many details as: pitot pressure chamber, antennas, fuel caps, yoke, moving key ring and moving radio cable
Custom panel and gauges
Toggle yoke at VC
Normal Procedures
Emergency Checklist
Autopilot quick reference manual
Performance tables
Windows 7, Vista, XP, MAC OS 10.3.9 (or higher) and Linux compatible
Submit a review of this product
Customers Also Purchased