This addon is compatible with
Microsoft Flight Simulator X
. It should also work with
Microsoft Flight Simulator X: Steam Edition
. Some developers have explicitly stated compatibilty with Steam Edition but others haven't. Check the product description below for guaranteed compatibility. Just because it doesn't mention it, this does not mean it will not work with the
Steam Edition
.
Sound Pack Compatibility Note: This sound pack will work with any aircraft model, both freeware or payware in FSX and P3D.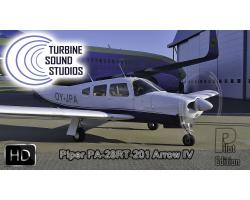 Media Format

Immediate Download

Compatibility

Microsoft Flight Simulator X inc. Steam Edition and Prepar3D (all versions including v4)

File size

79 MB
Created to offer unprecedented realism when flying this model of aircraft, the Turbine Sound Studios package has been put together to make sure that when you fly the Piper 28-201, you get all of the realism you need.
The sound effects are created in stunning HD detail, making sure you get all the help that you need in really buying into the sound and the style of this unique aircraft type.
Everything is heard as if you were sitting in the cockpit yourself, giving you a much easier way to know how your aircraft is reacting to what you do. Indeed, the product has been developed to ensure it works snugly with any remake of the 28-201, although it is specifically designed for use with the Carenado package.
What's Included?
In this package, you will receive access to both external and internal engine sounds which are absolutely fantastic, making it easier than ever to really buy into the authenticity that the engine itself will generate.

Wind sounds howl across the windscreen of the aircraft and make sure you have that real, authentic noise; the weather plays a massive part in any conventional flight, and this helps solidify that fact.

Cockpit environment sounds that are used to help sell the realism of the aircraft whilst also giving you a real appreciation of how it should sound at all times, giving the aircraft a much more enjoyable sound throughout.

Gear-up and gear-down sounds which sound excellent, matching the imagery that you see in front of you as well as giving you the help that you need in really getting to grips with the power of the Lycoming IO-360-C1C6 Engine.

Get extra assistance with help on call-outs and warnings when you make an error such as stalling, disengaging autopilot, gearing up or overspeeding. These are hugely useful for keeping you right as much as anything else, and ensuring that you never make the same mistake when flying.

Everything included in this package has been recorded in full HD glory, capturing the sound and the effect of the aircraft in truly attentive detail.

Customized splashing and crashing which add another level of realism when you do get yourself in a critical bind – these new sounds match up with what it sound like if one of these aircraft were to go through the same kind of crash, adding another little layer of realism in.
About The Engine
The Lycoming IO-360-C1C6 engine provides 200HP, or 149 kW, and was a key part of the success of this aircraft in the first place. The engine is one of the most important parts of the aircraft and usually dictates a large part of the sounds that you hear.
For this mod, we have concentrated heavily on the creation of unique sounds that will really capture the authenticity and the effect of flying in this kind of atmosphere as well as helping you clearly understand what it takes to fly something like this and make it a success.
Submit a review of this product