This addon is compatible with
Microsoft Flight Simulator X
. It should also work with
Microsoft Flight Simulator X: Steam Edition
. Some developers have explicitly stated compatibilty with Steam Edition but others haven't. Check the product description below for guaranteed compatibility. Just because it doesn't mention it, this does not mean it will not work with the
Steam Edition
.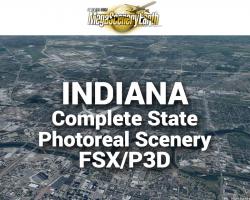 Media Format

Immediate Download

Compatibility

Microsoft Flight Simulator X and Prepar3D

File size

12 GB
Fly the entire state - BORDER to BORDER - of Indiana in photoreal detail.

Indiana is 36,418 square miles in size and has 538 airports. You'll see everything that you see in Indiana in real life in the scenery.
Imagery is clear and crisp 50 cm source throughout for a stunningly realistic scenery.
As an added bonus, we now provide all the VFR and IFR charts in digital PDF format to enable you to get the most out of your scenery. This includes TACs and Sectionals, IFR enroute charts and 4240 page book of Instrument Approach plates, Airport Diagrams, SIDs and STARs. The charts are downloadable along with your scenery files.

Some of the cities and landmarks you'll get to enjoy as you explore Indiana include:
Cities: Indianapolis, Fort Wayne, Evansville, South Bend, Hammond, Bloomington, Gary, Carmel, Lafayette, Terre Haute
Lakes: Michigan, Monroe, Patoka, Brookville, Wawasee, Mississinewa, Salamonie, Raccoon
Mountains & Hills: Hoosier Hill (1,250 ft), Sand Hill, Weed Patch Hill, The Knob, Bearwallow Hill, Diamond Hill and a total of 50 peaks above 900 feet.
State Parks & National Forests: Hoosier National Forest, Brown County, Versailles, Charlestown, Potato Creek
Major Rivers: Wabash, White, East Fork White, Kankakee, Patoka, Whitewater.
Discover the rest of it all for yourself! There's a LOT to see!
THIS TITLE COMES WITH A FULL SET OF FAA AERONAUTICAL CHARTS FOR INDIANA IN PDF FORMAT.
Here's what you get (download links for charts will be given to you with your product download):
SECTIONAL CHARTS: Detroit, Chicago, Cincinnati, St Louis
LOW ALTITUDE IFR CHARTS: ELUS-27/ELUS-28, ELUS-33/ELUS-34, ELUS-35/ELUS-36
HIGH ALTITUDE IFR CHARTS: EHUS-9/EHUS-10
AIRPORT FACILITY DIRECTORY: A 48 PAGE PDF BOOKLET
APPROACH CHARTS & AIRPORT DIAGRAMS: A 424 PAGE PDF BOOKLET
Submit a review of this product