This addon is compatible with
Microsoft Flight Simulator X
. It should also work with
Microsoft Flight Simulator X: Steam Edition
. Some developers have explicitly stated compatibilty with Steam Edition but others haven't. Check the product description below for guaranteed compatibility. Just because it doesn't mention it, this does not mean it will not work with the
Steam Edition
.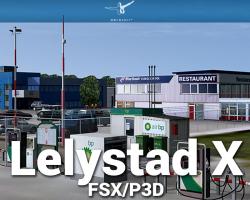 Media Format

Immediate Download

Compatibility

Microsoft Flight Simulator X inc. Steam Edition & Prepar3D

File size

227 MB
Leylstad X is a mod to help you change the famous Leylstad Airport, one of the most important aviation locations within the whole of The Netherlands. With this mod, you get a comprehensive and refreshing take on the airport, making sure that it comes to life far more than the original edition. This ensures you can finally visit one of the most popular Dutch flying schools, in all of its genuine glory and style!
With brilliant detail and a high level of precision across the board, this scenery takes into account the most important elements of the airport, using up-to-date scenery and various other improvements to make sure the scenery looks just right.
It's a great look, and provides you with a really high definition take on Leylstad, whilst also giving you access to a range of new additions that works well within the scenery. However, this does not limit or challenge performance too much. If you are sick of using aviation mods that make performances dip then you can use this mod for a nice balance in quality and performance.
This provides you with the brilliant Aviodrome, too! This is a popular aviation theme park and is the largest aviation museum in the whole of The Netherlands, too. This has been included and is housed as part of the airport, adding further to its overall style and coolness.
With a large collection of aircraft stored throughout, many of which are still in perfectly usable condition, you can make sure you are capable of getting yourself really into the mood of this awesome airport. In the past it was pretty dull, but this helps to spice it up a fair bit!
This offers many new changes and improvements to the airport, such as;
A new level of detail that goes beyond the norm, ensuring that you get a range of improvements to the airport that fits the 2009 standard accordingly. This helps to make it look fantastic alongside the Aviodrome, with performance aircraft included to help add another layer of character.

A balanced and in-scale recreation of the airport. The perfect solution for anyone who wishes to enjoy a simple and easy way to see this airport fitting with all of its true standards. This fits in compliance with normal flight simulation demands by giving you a really interesting take on the airport.

Incorporates strong 50cm/pixel aerial imagery with high definition textures being used on the airport terrain to help make sure it looks the very best that it can.

Makes use of high levels of animation to help make sure the airport looks alive, as well as having the greatest attention to detail possible at the same time.

Makes use of volumetric shadows and full seasonal textures, giving you all the help that you need in making you really appreciate the difference between summer and winter. Helps to create an atmosphere that improves the overall look of the airport, ensuring seasonal flights now carry a difference.

Detailed night lighting helps you fly around the skies at night with minimal help, using reflective taxiway markers to help you get around.

3D taxiway and runway lighting, helping it all come together and look the part.

Extended manual included for easy flight management and usage.

Completely compatible with typical traffic add-ons.
Submit a review of this product
Customers Also Purchased