This addon is compatible with
Microsoft Flight Simulator X
. It should also work with
Microsoft Flight Simulator X: Steam Edition
. Some developers have explicitly stated compatibilty with Steam Edition but others haven't. Check the product description below for guaranteed compatibility. Just because it doesn't mention it, this does not mean it will not work with the
Steam Edition
.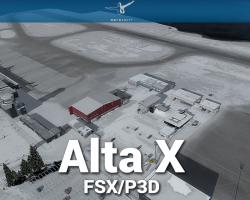 Media Format

Immediate Download

Compatibility

Microsoft Flight Simulator X inc. Steam Edition & Prepar3D

File size

2 GB
For many people, Norway is a nation they would love to visit but simply will never get the time. Well, with the help of this brilliant new mod you can finally get one of the most important airports in Norway, the Alta Airport, to come alive and look the best that it can.
Based at the Altafjord, this adds a fresh new perspective to FSX and P3D for all and can help you really appreciate just how beautiful Norway looks when someone takes the time to make it look unique!
With stunning accuracy and attention to detail throughout, this is a fresh and honest reworking of Alta Airport, giving you access to brilliant and highly detailed models that have been optimized for both visual quality and performance.
The large number of changes here will ensure you get a lifelike rendition of Alta Airport, adding in everything from new animations to specific seasonal highlights.
What's Changed?
A real appreciation of the region, for a start! The Alta X package here includes a fresh remake of the Airport itself with everything from the location and the scale to the buildings and textures following the example of real life for maximum effect. Make use of 20cm/pixel textures for both the area and the airport, with a custom terrain mesh and 50cm/pixel photographic scenery being used for the surrounding area for even better realism.

Provides you with seasonal looks to make sure you can get a really Norse feeling when you are here – even includes 3D snow to help you REALLY settle in here!

All airport buildings have been included with a real appreciation of their quality being put into account, helping it look the very best that it can and tying it all together.

Follows the same protocol of realism and attention to detail for the rest of the airport, too. Makes sure that you have plenty to pick from in terms of model attention as each model uses accurate textures.

Designed with smart coding to make sure that performances can be maintained and appreciated. Gives you an easy way to appreciate the importance of texturing changes whilst also giving you a fair level of performance.

Custom windsock and flag animations means that the game keeps dynamically changing the way the wind is moving in accordance with reality, helping you get a deeply genuine wind effect.

Custom approaches, runways and PAPI lights help improve both accuracy and ease of use.

Authentic changes to the way that the night lighting is used is a big bonus, too. This offers such an easy way for you to appreciate and enjoy the difference between night and day in Norway!

Static aircraft are included, as are interiors for buildings such as the terminals. This helps to populate the region and make it much easier for you to enjoy yourself moving forward in the area.

Animations bring the airport to life and this helps to balance out any static aircraft sitting around.

Suffering from performance dips? Then use the configuration tool for better, more consistent performance.

Works in full compatibility with both FSX, FSX: SE (Steam Edition) and P3D.
Submit a review of this product
Customers Also Purchased