This addon is compatible with
Microsoft Flight Simulator X
. It should also work with
Microsoft Flight Simulator X: Steam Edition
. Some developers have explicitly stated compatibilty with Steam Edition but others haven't. Check the product description below for guaranteed compatibility. Just because it doesn't mention it, this does not mean it will not work with the
Steam Edition
.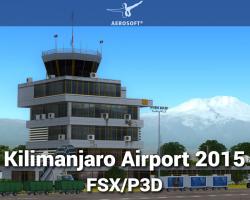 Media Format

Immediate Download

Compatibility

Microsoft Flight Simulator X inc. Steam Edition & Prepar3D v3 and v4

File size

370 MB
This intricate take on Kilimanjaro Airport helps to give you an easy landing spot for one of the most impressive natural climbs on this planet. If you are looking for a long range flight with a major challenge to it, setting off from Kilimanjaro Airport makes an obvious choice. It also makes a fine stopping point when making flights from across Europe to South Africa. This perfectly positioned location means stopping for fuels and emergencies will become so much easier for you to handle.
This is a fantastic feature; one that can give you all the help that you need to make your time spent facing the natural wonder of Mount Kilimanjaro easier to prepare for. With impressively high-quality 4K textures used throughout, this transforms Kilimanjaro Airport into a landmass as beautiful as the mountains themselves!
As the surrounding area is somewhat bare, the airport is very dense. It makes up for lack of wider depth by making sure you can see numerous little things happening all across the airport. Small items move that simply would not make it into other airports, with attention to detail creating a very memorable airport experience. Add in the memory friendly nature, and this take on Kilimanjaro Airport is one that most can enjoy!
Key Features
Fully compatible along with FSX SP2 as well as P3D.
Hugely impressive take on Kilimanjaro Airport, with 4K textures allowing for outstanding visual quality without a major impact on your FPS, maximizing the quality of the output.
Accurately detailed and a very close take on the real Kilimanjaro Airport ensuring it looks as authentic as it can. Buildings, layout, and scale all come together in perfect harmony.
High-resolution ground imagery will make sure you can get all the help that you need to make the surrounding area look impressive, too.
Realistic night ground textures for the entire area come to life, with night effects all around the airport creating a truly easy airport to arrive at even in the dead of the night.
A new model of Kilimanjaro and Mount Menu both are included here, making sure you can get the tallest mountain in Africa to come to life and show off a truly exemplary image.
Compatible with all known AI traffic packages for added life and atmosphere around Kilimanjaro Airport.
Detailed manual and charts make it easy to make sure your flight here is as safe as it can be.
Extra tools are included to help launch FSX and P3D with full support for use of 4K textures.
Submit a review of this product