Sacramento Airport Scenery for FSX/P3D

1 reviews


This addon is compatible with
Microsoft Flight Simulator X
. It should also work with
Microsoft Flight Simulator X: Steam Edition
. Some developers have explicitly stated compatibilty with Steam Edition but others haven't. Check the product description below for guaranteed compatibility. Just because it doesn't mention it, this does not mean it will not work with the
Steam Edition
.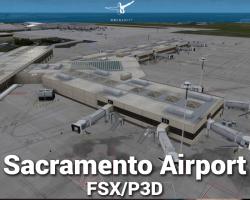 Media Format

Immediate Download

Compatibility

Microsoft Flight Simulator X inc. Steam Edition & Prepar3D

File size

612 MB
Anyone looking to enjoy the unique charms and styles of Sacremento would benefit massively from installing this mod – it's made to be the most simplistic and effective solution possible for anyone who wishes to engage with this part of the world. This mod takes on the Sacramento International Airport and includes a massive range of changes including 2k textures. Ambient occlusion effects and even reflecting windows for the perfect image.
This also comes with night and seasonal textures to make sure that your time flying around in the skies of Sacramento can feel as authentic as possible. Each texture provides you with the right kind of atmosphere whether it's day or night. The addition of a massive range of smaller objects sitting on the apron as well as animated terminals and moving vehicles helps to make sure the place looks lively and full of energy, making it look truly alive.
Main Features
Designed to use the basic AFCAD layout to make sure it operates as close to reality as it possibly can in simulation.

The use of 2K textures means that the airport can roar to life and give you something authentic to move around in.

A fully animated APM on Terminal B and fan blades on Terminal A makes a nice adjustment to the static nature of the old Sacramento International. Terminal B also has an interior with transparent and reflective glass for a whole new level of realism.

Reflections on the windows has been extended around the entire airport, making sure that the whole place looks open and lively.

Dense apron vehicles and clutter is included along with new vehicles in the car parks to make sure that the supporting sections of the airport look true to reality, as well.

A fully 3D multi-story car park is included which is used in various guises to help you fully appreciate what you are dealing with, making the airport look as busy as it should.

A fully ambient occlusion feature has been included for use with all models, making the place look absolutely brilliant both close in and afar.

3DS Max baked night textures make the place look excellent with every building feeling far more realistic than it would have in the past.

A highly detailed range of models are included on all major buildings, helping you appreciate and build up something totally different from what used to be here.

Scenery configuration tools are being used to help you make sure that everything in the airport looks just as it should for you. Helps to build the realism across the board.

Full compatibility when being used with all common simulators out today including FSX, FSX: SE, P3D V1.4, P3D V2 & P3D V3 for the finest user experience possible.

Volumetric grass edging is used to make sure the airport looks bustling and alive whilst helping the overall atmosphere improve as you fly around.

CTRL-controlled jetways to make sure you have full access to the airport in every possibly way.
Customer Reviews
Rated 5.0/5.0 based on 1 customer reviews
07/30/2018

5

/

5

Verified Purchase

I'm a Lyft driver and I go to the Sacramento International Airport daily. And from what I've seen in this software is dead on to the details of the layout and I was in awe of how this software looks. You guys did a wonderful job to the detail, and can't wait to download more of the software from Simshack. I thank you so much, I look forward to my next one!
Submit a review of this product
Customers Also Purchased