Ka-27/32 'Helix' for FSX/FS2004

2 reviews

This addon is compatible with
Microsoft Flight Simulator X
. It should also work with
Microsoft Flight Simulator X: Steam Edition
. Some developers have explicitly stated compatibilty with Steam Edition but others haven't. Check the product description below for guaranteed compatibility. Just because it doesn't mention it, this does not mean it will not work with the
Steam Edition
.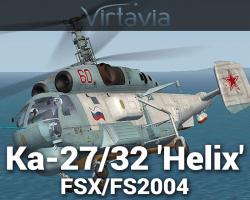 Media Format

Immediate Download

Compatibility

Microsoft Flight Simulator X & Microsoft Flight Simulator 2004

File size

75 MB
The Ka-27 is the next logical development from the Ka-25, the Ka-27 was restricted by the previous helicopters' size and spaces onboard current Soviet vessels, but by careful design was able to maximize cargo capacity and range. The use of coaxial rotors removes the need for a tail boom and rotor and drastically reduces the footprint on board vessels. The primary role of the Ka-27 was naval operations, mainly hunter-killer ops and/or SAR, several variants were fitted with a long range folding radar under the belly to increase the fleet's over-the-horizon range. Other variants of the same airframe are the Ka-28 (Export), Ka-29 (military transport), Ka-31 (maritime reconnaissance) and the Ka-32 (civil transport). With the fall of the Belin wall and the collapse of the Soviet Union, many of these can now be found in private Western operators' fleets, the stability of the twin rotor design being especially useful for rescue and tight-space working in the oil and electricity industries.

Features -

- THREE unique models with race-specific crew figures
- EIGHT texture sets -

Soviet Navy : Ka-27PS 'Helix-D'
Chinese Navy : Ka-27PS 'Helix-D'
North Vietnamese Navy : Ka-27PS 'Helix-D'
Yugoslavian Navy : Ka-27PS 'Helix-D'
Indian Navy : Ka-27PS 'Helix-D'
South Korean Police : Ka-32S
Swiss SAR 'Heliswiss' : Ka-32T
'VIH' Canadian logging company : Ka-32A11BC

- native FSX model with all FSX features (bump mapping, self-shadowing, bloom etc)
- custom Helix soundset included
- authentic virtual cockpit with animations and (some) mousable switches
- rear cabin represented in v-c
- very high quality all-xml 2D panel, custom pop-up for radios/electrics and moving map
- full checklist and reference files
- animated side doors and main cargo door
- crew figures toggled on water rudder command
- rotor blades animated to show fore/aft & left/right tilt
- v-c rain effects (FS9 only)
Customer Reviews
Rated 5.0/5.0 based on 2 customer reviews
11/06/2015

5

/

5

Brilliant!

As a massive fan of the Helix myself – and having had the pleasure to see one fly in real-life – I was looking forward to getting a chance to try one out. The deeply engaging textures that have been created for this are really impressive and make it simple to get into the idea of flying this aircraft. Indeed, what you need to consider is the importance of flying the Helix properly and waiting for the package to come together in that way for yourself and this does a great way of making even the most simple of pilots (me!) fly it easily.

The brilliant addition of things like the virtual cockpit and the real cabin made it a dream to fly for me at many points as I was able to feel right at home whilst getting to enjoy a deeply engaging aircraft experience that felt far more authentic and enjoyable than many of its real-world counterparts, having flown several helicopters myself in the past.

Add in the excellent graphical features and you've got a package that is more than the sum of its parts, in my opinion. Looks brilliant and performs even better- what more could you ask for?

The idea of flying this aircraft in the various formats it comes in with the eight textures sets included was something that I was excited by to test out the quality of each design. Every livery included looks absolutely spot on, capturing the detail of the package in perfect detail.
04/05/2018

5

/

5

I am a TS in avionics. I worked on this type of helicopter it is among the best helicopters in the world
Submit a review of this product
Customers Also Purchased