This addon is compatible with
Microsoft Flight Simulator X
. It should also work with
Microsoft Flight Simulator X: Steam Edition
. Some developers have explicitly stated compatibilty with Steam Edition but others haven't. Check the product description below for guaranteed compatibility. Just because it doesn't mention it, this does not mean it will not work with the
Steam Edition
.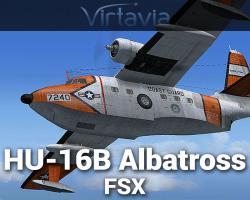 Media Format

Immediate Download

Compatibility

Microsoft Flight Simulator X

File size

224 MB
As an aircraft of incredible power and strength, the Grumman HU-16B Albatross provides a unique insight into just how aircraft have changed and improved as time has gone on. First introduced after the Second World War in 1949, the HU-16 has underwent a series of changes and transitions since. Itís become one of the most storied and complete aircraft of its era, with a service history that takes in more aircraft than you can probably imagine!
The initial wing extension that was provided on the initial model ended up becoming a staple, making it perfect for things like costal search and rescue. Today, this aircraft still gets a lot of positive usage and airtime with private experts who love to fly something a bit more dynamic and unique than this. It really is, though, the perfect choice to go with for exquisite detail overall.
Whatís Included?
A massive range of differently modeled and textured designs that is just perfect for anyone who wants to start transforming their knowledge and opinion of this aircraft. Each model that has been included Ė sixteen in total Ė comes with a range of different styles. Some are civilian and some are non-combatant operators. Each model that is included in here, though, comes with HD textures that have been made using hoursí worth of study and preparation to ensure they look just as they would have in real-life, including textures for;
17166, 354th TFW, USAF
17166, 'Factory Fresh', 354th TFW, USAF
7240, Rhode Island, USCG
16279, CSAR, USAFR
137926, USN Mission to Peru, USN
17155, NAS Whidbey Island, USN
17155, 'Factory Fresh', NAS Whidbey Island, USN
10071, 53rd ARRS, USAF
10071, 'Factory Fresh', 53rd ARRS, USAF
141262, USS Currituck, USN
141262, 'Factory Fresh', USS Currituck, USN
N120FB, Chalk's Ocean Airways
60+07, SAR, Bundesmarine
N43GL, 'Miss Nancy', Private
N121FB, 'Billabong Clipper', Private
7177, Hellenic Air Force
Everything included in here carries the same depth and detail that is required to get a true understanding of how good this kind of management can be.
Key Features
A model that has been made for use with both FS2004 and FSX, giving you total and utter control over how the model is going to look and the overall depth of the detail that has been added in along the way. This remade model, managing to capture every little detail along the way, is a truly authentic mix that makes the most of things like bloom, self-shadowing and mump mapping to ensure that the aircraft carries all of the hallmarks that it would in reality

The model that is used for FSX comes with a V-C- self-shadowing addition that looks outstanding, really helping you capture the depth and the feeling that is needed in any modern model. However, be aware that this does need you to have the FSX SP2 addition installed, and typically provides the best response when being used with DX10 Preview

The virtual cockpit that has been included with this package truly looks awesome, managing to capture all of those little things that you need to really start seeing how an aircraft can come together in the right fashion. With the right kind of virtual cockpit design, you can have various animations and mousable controls to get used to. The animations look great and the ease of control makes managing the aircraft much simpler than it was in the past

Night lighting has been made up to be used within the virtual cockpit, too. The use of separate illumination for the cockpit and the instrument facings, though, ensures that you donít get too overwhelmed with all of the extra light and also will make sure that you donít run out of ideas in terms of what you need to do when trying to control it

A huge range of detailed, high quality sounds are made up to be used that ensure that the aircraft carries the same rumbling and depth of the Albatross itself. Itís important to get this little extras added in there as they help to add an extra layer of character and volume to proceedings, with the sounds all professionally optimized for usage with the most modern of systems

Animated additions have been included, too, such as the addition of an opening cockpit and cabin hatches. These look great and make it nice and simple for you to choose how the aircraft will operate when you are at the helm. This will, in turn, make it much easier to get to grips with what you are doing and what you are taking on. These new animations also help to sell the entire aircrafts look and appeal, with things like the doors all moving and making the whole thing feel like it has a lot more life to it than it may seem at the moment!

The aircraft also has absolutely fantastic flight dynamics being included, with the possibility of landing in the water now included with this. The flight dynamics make it fly just as the original would have giving you a taste for what this kind of rather conventional looking aircraft was capable of achieving

Prop pitches and cowl flaps are now totally animated, making it much easier to control and manage your aircraft as you move forward and as you try and get used to everything going on in the cockpit

Real gauge technology is used within this project that makes it much easier to use and far more enjoyable to actually hop into the cockpit of. With the gauges all working and operating as they should, youíll have unprecedented control over the usage and the way that you are flying

2D panels are not provided with this; instead it uses period radios as they pop up when you press the SHIFT-2 keyboard combination

A massive range of smaller details are included throughout to make the whole package stand up together and look the part, giving you a huge range of details that really help to sell the attributes of the aircraft perfectly
Submit a review of this product
Customers Also Purchased