This addon is compatible with
Microsoft Flight Simulator X
. It should also work with
Microsoft Flight Simulator X: Steam Edition
. Some developers have explicitly stated compatibilty with Steam Edition but others haven't. Check the product description below for guaranteed compatibility. Just because it doesn't mention it, this does not mean it will not work with the
Steam Edition
.
Sound Pack Compatibility Note: This sound pack will work with any aircraft model, both freeware or payware in FSX and P3D.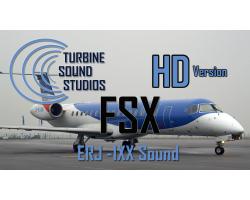 Media Format

Immediate Download

Compatibility

Microsoft Flight Simulator X inc. Steam Edition and Prepar3D (all versions including v4)

File size

68 MB
Sick of the same old sounds every time you fire up FSX? Then why not utilize the immense power that this brings to the table? This remake of the ERJ-1XX range of aircraft and the sounds their engines made is one of the most useful features you can have.
Indeed, this makes it ten times easier to start planning and preparing how to manage your aircraft – fit for any of the ERJ-1XX aircraft you can utilize the power this provides to give you a much clearer and crisper audio performance, making it much easier to enjoy yourself moving forward.
Taking audio from various Embraer aircraft flying across the globe, these authentic sounds are built up using the real thing to actually get genuine audio footage. Now it becomes so much easier to manage how your flight sounds and how it reacts to the features that you try and use.
By doing this, you are providing with various engine sounds that have been recorded and re-mastered into an HD format, capturing the pristine level of detail that would be expected. It meets flight simulation standards in that it creates a unique and engaging range of audio that is hard to forget, but very easy to hear.
By doing this, you receive a much clearer way of communicating with your aircraft as you fly, thus making your entire aviation time within the cockpit of this amazing aircraft much easier to handle.
Given this aircraft range is capable of hitting cruising speeds of up to 450kt, it's important to understand that this is a rapid aircraft that really will push your boundaries of both your eyes and, with this package, your ears. Now you will really feel the performance range in this aircraft hit its peak with relevant sounds included to match.
These new sounds will do everything they can to give you incredible detail, and with two sound packs included for various models you should have no problems in making it work and match up with the way that you intended.
The Engine
These aircraft typically used two 33.0kN Rolls-Royce AE-30078A1/3 turbofans. These are incredibly powerful engines that do all they can to make your flight far more comfortable and more enjoyable from a flight perspective, but also a lot more enjoyable to sit through from an audio perspective – with this package, that is made clearer than it has ever been!
Indeed, what you need to pay attention to is the sounds that it emits as you fly and pick up pace; these new sounds will help you determine everything from what is going on inside the cockpit to the speed of the wind and the weather outside the aircraft.
All of these little extras mean that you need to spend your time delivering something fresh and exciting, ensuring that you start to get the help that you need in making sure you never miss out or to help keep you on the right track, hearing every incident and occurrence as you fly!
Submit a review of this product
Customers Also Purchased