This addon is compatible with
Microsoft Flight Simulator X
. It should also work with
Microsoft Flight Simulator X: Steam Edition
. Some developers have explicitly stated compatibilty with Steam Edition but others haven't. Check the product description below for guaranteed compatibility. Just because it doesn't mention it, this does not mean it will not work with the
Steam Edition
.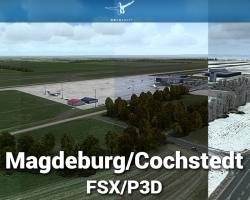 Media Format

Immediate Download

Compatibility

Microsoft Flight Simulator X inc. Steam Edition & Prepar3D including v3/v4/v5

File size

305 MB
A trip to the German city of Magdeburg is always a delight for any pilot. However, now Magdeburg/Cochstedt is now designed in much-needed detail, a flight here can feel even more enjoyable.
This package, a combination of work by 29Palms Scenery Design and Captain7, this makes sure that the airport finally comes to life as it always should have.
The airport itself might not be the most important in Germany, but itís crucial to the city of Magdeburg. Arriving here, you now arrive at a much busier and more realistic looking airfield, with many key features missing previously now included.
For those who like to arrive at an airfield and see a significant change from summer, autumn, and winter, be sure to take a look at this add-on.
With new scenery for the time of the year included, users can enjoy a much more respectable and professional simulation experience. Your next trip to Magdeburg, then, might be a touch more enjoyable.
Whatís new?
Impressive changes to the Magdeburg/Cochstedt airport, ensuring that it delivers excellently detailed airport facilities across the area.
Many hand-placed objects make their way into the world, with static GA aircraft hanging around the airport to help ensure it feels busier.
Airport lighting changed and improved to offer a more modern lighting module and to make sure that you never have issues with visibility.
New and improved animations included alongside working facilities vastly improves the surrounding roads and apron area.
Ground-based photo-imagery makes sure you can get high-resolution detail on the ground, with 2048 x 2048 textures used for all day and night textures.
Seasonal textures, complete with changing vegetation, were also included. A must-have for those who like to fly during certain times of the year.
Easy to install, and comes with an easy to use updating tool for automated updates for any changes made over time to Magdeburg/Cochstedt.
Suitable for FSX, FSX: SE, and Prepar3D v3-5.
Scenery Configuration tool allows you to improve/reduce the scale of detail for better performance.
Submit a review of this product