This addon is compatible with
Microsoft Flight Simulator X
. It should also work with
Microsoft Flight Simulator X: Steam Edition
. Some developers have explicitly stated compatibilty with Steam Edition but others haven't. Check the product description below for guaranteed compatibility. Just because it doesn't mention it, this does not mean it will not work with the
Steam Edition
.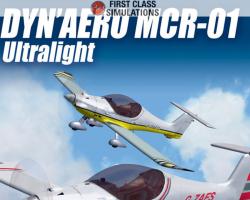 Media Format

Immediate Download

Compatibility

Microsoft Flight Simulator X & 2004

File size

24.4 MB
AFS-design brings a excellent rendition of Dyn'Aero MCR-01 Ultralight.
The MCR 01 Sportster ULC(LSA) Ultralight is a side by side two-seater airplane with incredible performance and capability. Fast and agile, the VLA was specially designed to reach top speed while providing the most enjoyable experience to pilots
The MCR 01 is a very high performance aircraft, that can cruise as fast as 300 km/h with only a 100 hp engine, at very low cost. Thanks to the highest level of technology available, and very light material, the Sportster has a very efficient direct control system that guarantees the same satisfaction as flying a fighter jet.
The MCR 01 has been designed around high safety standards and wings efficiency, providing both extreme exibility and easy flight characteristics. Equipped with a 80 HP engine and a fix pitch propeller, it is the ideal airplane for intensive use in flight school operations or aviation clubs.With a 100 HP engine and a constant speed propeller, it becomes an efficient high performance airplane combining fast cruising speed and easy handle characteristics
The MCR 01 characteristics lie in its unique wing design, involving a greater span and area, as well as split double slotted fowler flaps and ailerons. This sophisticated wing concept allows the MCR 01 to reach an unprecedented maximum to stall speed ratio of 4, although it guarantees a very gentle behavior in rough air conditions and a high safety level.

The MCR-01 Ultralight AFS-design product features the following:
7 different visual models covering the Aero Light Club Strausberg-Berlin, Germany.
Private textures of France, United Kingdom, Switzerland, Austria, Germany, Canada, United States and more...
2 different mask 1 for repainter - make your own model of MCR
New Model of authentic MCR - Dyn'Aero support
New Sound of real MCR-01 with authentic start engine sound
Panel is complete and full in function with AFS-design - XML gauges:gps_500, Bendix-King Radio Xpndr, Altimeter, Vertical Speed, RPM Indicator, Fuel, Oil, Temperature, Pitch Trim, Clock, Flaps, Libelle, Airspeedkn, Fuelpump, Lightnavigation, Lightstrobe, Intercom, starter lock, Compass, Attitude and many other gauges...
High detail textures with realistic effects, reflective areas, specular shine and accurate external lighting.
A complete 3D virtual cockpit featuring animated control surfaces, custom gauges, night lighting, high textures, fully interactive and more...
New animations feature in external model and virtuall cockpit are: detailed landing gear, rolling wheels, steerable nosegear, canopy, pilot ladder, strobe and navigation lights, folding wings, realistic propeller effect on full power, brake parachute AND virtual cockpit and many more...
Detailed and easy to fly flight model with auto-trim and real animations feature of flaps and canard wings for aerodynamically unstable
Submit a review of this product
Customers Also Purchased