This addon is compatible with
Microsoft Flight Simulator X
. It should also work with
Microsoft Flight Simulator X: Steam Edition
. Some developers have explicitly stated compatibilty with Steam Edition but others haven't. Check the product description below for guaranteed compatibility. Just because it doesn't mention it, this does not mean it will not work with the
Steam Edition
.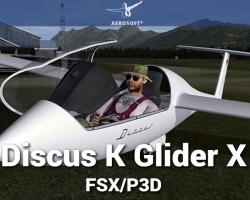 Media Format

Immediate Download

Compatibility

Microsoft Flight Simulator X inc. Steam Edition & Prepar3D v3 and v4

File size

43 MB
The Discus glider is a very impressive little German glider that, for 11 years (1984-1995) provided one of the best gliding experiences out there. A Standard Class glider, just over 800 were produced as a major part of the Discus range. Known for its distinctive swept-back style, it became quite a major hit in the market as something that broke completely free from the norm.
Indeed, the aircraft was used for victory in major racing tournaments, including the 1985, 1987 and 1989 World Gliding Championships. If you would like to feel a touch of that trophy-winning gliding quality, then, this take on the model is one for FSX and P3D v3-4 users.
While no longer among the best in the glider industry any longer, it's still a very impressive glider machine that, in a simulation, can feel very fun to play around with. A high-performance glider, this comes with a 42-to-1 glide ratio. Easy to fly and with a simple range of options for both experienced and newbies to gliding to play around with, you should find this to be great fun regardless of your usual level of experience with gliders.
This particular version, the K Model, was one of the most popular of the Discus range. It was used for the first time in 1988, but many simulation pilots will likely have never enjoyed the pleasure that the Discus K Glider X provides.
Key Features
Created using help from Schempp-Hirth over a 20 month+ period, this is a truly detailed take on a very popular Glider model indeed.
This is a highly detailed take on the aircraft, with more than double the volume of polygons used in various parts to help make every single piece of this Glider as enjoyable as possible.
The highly advanced and enjoyable flight model ensures that you can enjoy taking on accurate and detailed flight experiences with the model as close to the real thing as FSX/P3D allows.
100 new non-standard sounds added in help to make the whole experience even more wholesome. From opening windows to stalls, everything makes a sound you can relate to.
New animations help to keep the glider looking alive, with various elements that begin to move when under the force of a high G load.
Flexing wings help to produce a very impressive look, all the while helping to ensure that your aviation experience is as realistic as it can be.
Usable yaw string makes sure that flights are so much easier for you to coordinate and control.
Instruments available are as accurate as possible, making sure you get the true features that a glider pilot has access to.
Submit a review of this product