This addon is compatible with
Microsoft Flight Simulator X
. It should also work with
Microsoft Flight Simulator X: Steam Edition
. Some developers have explicitly stated compatibilty with Steam Edition but others haven't. Check the product description below for guaranteed compatibility. Just because it doesn't mention it, this does not mean it will not work with the
Steam Edition
.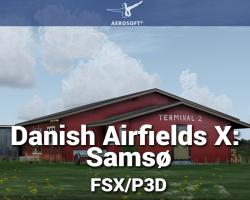 Media Format

Immediate Download

Compatibility

Microsoft Flight Simulator X inc. Steam Edition & Prepar3D v4 & v5

File size

530 MB
As a smaller part of the airfield industry in Denmark, Samsø is often forgotten about or missed entirely by non-Danes. If you want to help make the beautiful nation of Denmark stand out and shine like never before, though, you need this exquisite take on Samsø to shine brightly. This smart little island just off of Jutland is around 114km2 in size, offering a quaint and enjoyable island to fly out to.
With around 4,000 people living here, it's a tremendously rural and private location that you should really relish coming to visit. Seen by many as 'miniature Denmark', Samsø is a truly exceptional little place to come and visit. Away from the usual landscape of Denmark, you can enjoy its steeply sloped coastal lines and wonderfully hilly terrain, as well as tremendous glaciers. All of this comes to life in some style with the help of this Samsø scenery add-on. Farmland stands out a mile away from the sky, as does the new and improved Samsø Airfield.
Previously a generic non-entity, this now is the character-bursting little airfield that so many people stop off at to see a touch of rural Denmark. The city of Tranebjerg and its little heliport have joined this package, too, creating a truly special and gratifying experience.
Key Features
Highly impressive 60cm/pixel and 10cm/pixel photorealistic ground terrain for both Samsø and Samsø Airport. This helps to make the whole region look unique and especially specific.
Detailed custom meshing is used from the Denmark Mesh 2013 package. This helps to make the whole area of Samsø look a lot different to normal Demark, making it easy to spot far off!
Samsø Airfield has undergone a comprehensive change, making it look far more like the original airport itself. Smart little buildings with clear markings are laid out, ensuring it's easy to navigate.
Tranebjerg's nearby heliport is added, into, making it easy for both plane and chopper to fly over to Samsø and have a tremendous time.
New buildings put together by Vadan Design helps to make the whole of Samsø look a whole lot more different and impressive.
Major landmarks in the region will come to life, with the likes of the Vesborg Lighthouse and the various churches and harbors that make up this unique island all given precedence.
Modeled buildings are hand-placed across Samsø, adding even more attention to detail and precision where it previously felt so lacking.
Volumetric grass and flowers help to the whole island to feel much busier and detailed.
Seasonal changes make sure that arriving in summer and winter can feel like flying to entirely new locations.
Dynamic GA AI traffic for FSX users is included, helping to add a more bustling nature to the island that really adds to the atmospheric quality it can provide.
Submit a review of this product