This addon is compatible with
Microsoft Flight Simulator X
. It should also work with
Microsoft Flight Simulator X: Steam Edition
. Some developers have explicitly stated compatibilty with Steam Edition but others haven't. Check the product description below for guaranteed compatibility. Just because it doesn't mention it, this does not mean it will not work with the
Steam Edition
.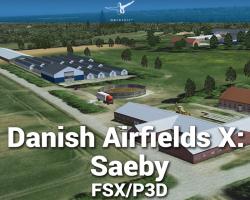 Media Format

Immediate Download

Compatibility

Microsoft Flight Simulator X inc. Steam Edition & Prepar3D v4 & v5

File size

294 MB
Although using a flight simulator has many bonuses and appeals, one of the major changes and improvements over the years has been the realism of the world. Not everywhere feels quite so authentic yet, though, and with mods like this Danish Airfields X edition for Saeby Ottestrup EKSA, you can add more personality to those critical new locations we all love to discover.
Based just southwest of Frederikshavn in northern Jutland, Saeby Ottestrup EKSA is a popular airport for use within Danish society. Itís relaxed, quiet and rather rural atmosphere makes it a brilliant place for smaller aviation activity.
From gliders and general aviation pilots, this is a great place to come for those who appreciate a bit of charm and personality within the airports that they come to visit.
Not only does this help the airport feel a bit more alive than before, but it helps to improve the entire outlook of using such a small airport. Gone are the dull and generic features of before, replaced by a short-range airport that is the perfect place to begin a GA round trip of Scandinavia!
This makes Saeby Ottestrup EKSA a fine plane to begin your journey, with 650m of marked grass runways and lights with a 1000m glider area included. Plenty of room and plenty of space for getting around makes it a brilliant location for any new pilot to come and visit the area.
Best of all, Saeby Ottestrup EKSA is now accompanies with 19cm/pixel photorealistic scenery with both seasonal and day/night features. This helps to make the whole airport rip with personality and charm, with everything from uniquely designed hangered to custom edited farm houses based on what you would expect to see here in the first place.
Everything comes from excellent on-site photos that helped to set the scene for a picturesque take on Saeby Ottestrup EKSA which you can now enjoy at your leisure.
Changes
A whole new take on the old Saeby Ottestrup EKSA helps to sell it and make it look far more authentic from the dull original that exists in both FSX and P3D.

19cm/pixel aerial imagery sets the backdrop, with both day and night dealt with alongside seasonal changes. Come here during the winter or the summer Ė itís your choice!

High-resolution building textures also help to make sure the airport can carry a specific charm and a usual quality that can be quite hard to grasp in the normal version of this airport.

New vegetation is used to help set the airport up to look realistic from every angle. New volumetric grass plays a big part in making the airport look the best that it can.

Custom modeled objects and vehicles are also accompanied by some ne GA AI traffic, making sure that the airport feels busy and alive at all times.

New animations are included to help improve this alive nature of the airport, giving it even more flavor than in the past.

A detailed manual in both English and German, perfect for learning the place with!
Submit a review of this product