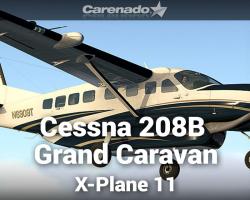 Media Format

Immediate Download

Compatibility

X-Plane 11

File size

480 MB
Released in 1982, the Cessna 208B Grand Caravan soon became a major hit within the Cessna range itself. This single-engine turboprop aircraft became one of the most popular short-haul regional airliners around. With space for up to nine passengers and cargo or up to fourteen passengers, this is an aircraft known for being versatile and suitable for even the most challenging of circumstances
The high-wing cabin makes sure that you are left with an aircraft that feel stable and strong. Now updated and changed to help match with X-Plane 11 standards, this takes the Cessna 208B Grand Caravan and portrays it in the most spectacular fashion possible. This makes use of new Physically Based Rendering add-ons to help make the most spectacular shine and shimmer possible.
The Grand Caravan and Super Cargomaster are truly specifics solutions for anyone who is looking for a more striking form of aviation. With both included, then, you can easily enjoy a much more comprehensive take on one of the most popular ranges of the Cessna brand of their era.
Key Features
Authentically and faithfully designed to match up with X-Plane 11 standards. This aircraft has new flight physics dynamics, engine dynamics and ground handling adapted for XP11.
New physically based rendering allows metal materials to shine and glimmer as they should, reacting to the lighting in an altogether much more immersive and impressive manner.
Industry standard software has been used to make sure that all PBR rendering looks as impressive as it can.
Fully compatible with the X-Plane GNS430 model, a truly special FPS-friendly model that you can enjoy.
Ice and rain effects which help to add even more immersion when sitting in the cockpit, watching the elements form around you.
Fully Goodway compatible.
Clickable VR effects to help further boost the integration that modern simulation pilots can enjoy.
Dynamic loading and unloading of all 3D parts help to keep frame rates high and performances spectacular.
Realistic flight behavior akin to the real Cessna 208B Grand Caravan ensures that every flight and give you a hugely positive impression.
Tested by many pilots for the best accuracy that you could possibly expect. A must-have for those who like to try aircraft that come with a professional seal of approval!
What's Included?
Alongside all of the above, you can enjoy access to 5 HD liveries all of which follow authentic inspiration. This helps to create a truly impressive experience for you to enjoy.
The HD blank livery also gives you the chance to enjoy a much more specific and specialized experience if you would like to make something specific and/or fictional.
Reference and procedure documentation for both aircraft models is included, too, making sure you can fly & land your Cessna 208B Grand Caravan without much issue!
Assistance with both using the KFC150 Autopilot as well as recommended settings to get the most out of the Cessna 208B Grand Caravan in X-Plane 11.
Submit a review of this product
Customers Also Purchased