Bourbon Orca X-bow for FSX

1 reviews

This addon is compatible with
Microsoft Flight Simulator X
. It should also work with
Microsoft Flight Simulator X: Steam Edition
. Some developers have explicitly stated compatibilty with Steam Edition but others haven't. Check the product description below for guaranteed compatibility. Just because it doesn't mention it, this does not mean it will not work with the
Steam Edition
.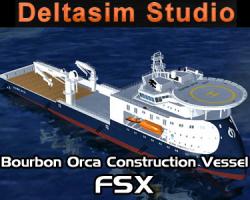 Media format: Immediate Download
Compatibility: Microsoft Flight Simulator X
Filesize: 74 MB
Bourbon are a well renowned French shipping company which provide expertise in shipping services across the globe, offering a fine range of additional services within this. One of their most typically used tug boats for transport of large-scale goods, though, is the Bourbon Orca. This comes in various fashions, and in this modification you will gain access to the full usage of three different forms of the Bourbon Orca. For aviation fans who want to take a fresh perspective of the world and take to the seas instead of the skies, this can be an incredible opportunity to see the world like you have never been able to in the past.
The Bourbon group was originally from Reunion, and was developed by Emile Hugot as a means of offering an easy way to transport the large sugar industry that Reunion was known for. They also have a HQ in Paris, and their range of clients range from nations like Angola to the Gulf of Guinea, and even Norway. This wide range of people who use their services ensures that Bourbon will remain a significant player within the transport and logistics industry for many years to come, offering strong solutions and high-end bulk transport, towing, assistance and even rescue services to various nations in the world.
Specifications
The Bourbon Orca is one of the most popular tug boats out there, and this is mainly due to their rather significant size in comparison to many boats of a similar function. Given its massive 120m length, 25m width and 39m height you can imagine that this is a boat that transcends the "normal" size for a tug boat. This makes it easy to get to grips with, and even easier to start really understanding the vast difference in size with the Orca and other tugs

An 8m draft means that you can enjoy a relatively smooth ride on the tug as it will not bob around as much as other boats – this larger draft ensures that it stays as planted in the water as it possibly can

The deadweight of 8,700 tons ensures that it can be offer you the size, strength and versatility that you would hope to see from a tug boat – this can carry a huge amount of resources!

It carries 2,300 cubic m of fuel, giving you enough juice to get you from A to B with little problems; it might be large, but it's suitably equipped for just about any journey!

2 x 4150 kW engines make this an incredibly powerful ship to use, ensuring that you can pull all of those thousands of tons across the sea with very little problems

A top speed of 14.5 knots which, given its size and storage capabilities, is actually quite impressive!

Full exterior and interior equipment included, so you will have all of the active tools that a tug would be using such as large carrying cranes. However, the cranes are not usable

2 x one touch switches to make powering up the Orca easier than it has ever been before
Key Features
204MB of highly detailed images, data, models, features and additions to help make the whole new aspect of using a boat in FSX as enjoyable – and as realistic – as it possibly could be regardless of what it is that you wish to achieve when using this kind of tug

Fully controllable! With the help of this mod, you no longer are stuck to just staying high up in the sky. Now, you can take control of a ship and use the stunning water features of FSX to explore the world from a whole new vantage point. It almost feels like a whole new simulation experience entirely

High definition textures that capture the look and feel of this magnificent ship perfectly – it looks great in the distance and really captures the nature of it in the most sublime manner possible

A huge range of authentic decision regarding naval dynamics and features, ensuring that this could capture the look and feel of the Orca tug boats in the most stunning capacity possible

3 models included with two variants each, giving you six vessels in total. Each has been faithfully created to capture the look and feel of the real thing, with every little inclusion from the color scheme to the spoilers being included with each model to really ramp up the realism side of things

The models that you receive access to will include the excellent Bourbon Orca SX-121, a green equivalent of the SX-121, as well as the Bourbon Orca Rescue. This gives you a realistic and accurate recreation of each, with detailed parts and customized effects made entirely from scratch for each model

Moving parts such as rudders, throttles, gauges, switches, doors, flags, windshield wipers, and even the air conditioning. Everything that you could possibly be using on a tug boat will be added in here faithfully, gathering all the style and performance of the real thing into one awesome model

Controllable pieces of the tug boat include wipers, the speed of the boat, the reverse engine, the turning of the boat, lighting, air conditioning, dropping and lifting of the anchor and every door which is on-board the ship in the first place

A fully working range of virtual cockpits that have 3D gauges, switches and instruments to really capture the effect and feel of this tug boat in all of its glory, allowing you total control

A hugely detailed team of crew members who work independently alongside you and make sure that everything is working fine as well as helping to add a nice level of realism to the whole thing. You'll no longer feel like you are on a ghost ship, as a nice atmosphere is created with the help of these crewmen

Detailed documentation that reads like an Orca encyclopedia, making it nice and easy for you to get used to the Orca and all of its little tricks and skills. Learning the advanced mechanisms of an Orca – or any boat – has never been easier!
Customer Reviews
Rated 5.0/5.0 based on 1 customer reviews
09/04/2014

5

/

5

As a bona fide flight similar, (FSX 6+ years), I've got to the point where I only purchase the highest quality aircraft and scenery for FSX. Even so, I felt like something was still missing and what it was turned out to be a change in my point of view on occasion.

Much of my add-on scenery involves some beautiful, remote coastlines that are very detailed. So I decided to cruise around on the water in a boat but I wanted a boat that could cruise at least 25 to 35 kn, looked equally good in the night time as it did in the daytime, and had lots of cool "eye candy".

The Delta Sim "Bourbon Orca X-bow" is in my opinion, probably one of the best add-on boats ever made for FSX. Not only does it have an incredibly detailed interior, (you can walk through it all and even stand on the outboard planks), but it has this fantastic lighting system effect that just screams for a foggy weather, dusk and/or dark, with drizzle weather, conditions!

When all those lights are on under those weather conditions, you can't resist taking screenshots over and over! I've never been on the Orca X-bow but it seems to me like it would handle very similar to the way Delta Sim has developed it. This is one top-of-the-line boat add-on that would be parallel to the most advanced flight simulator aircraft sold today.

I promise you won't regret it when you buy it but be sure to follow the instructions regarding the way to set the boat up for its opening and FSX, (in other words, read the instructions and the manual). Rich
Submit a review of this product
Customers Also Purchased