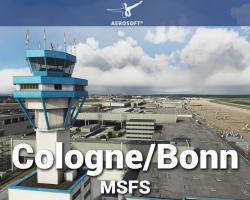 Media Format

Immediate Download

Compatibility

Microsoft Flight Simulator (MSFS) 2020 Release

File size

3 GB
This latest add-on for Microsoft Flight Simulator (MSFS) 2020 brings Germany's seventh busiest airport to life with a fully authentic and realistic virtual version of Cologne/Bonn Airport, which is one of only several airports in the country that operates around the clock.
In the real world, it is one of the major locations for goods coming in and out of Europe, while also serving as a great hub for travelers looking to reach other European destinations.
All of the runways (two parallel and one crosswind), facilities, buildings, and the airport terminals have been recreated in stunningly accurate detail, further including the taxiway, apron, and stands layout, all of which are completely up to date.
This accurate detail is also replicated in the general objects and ground service equipment, as well as the general terrain.
The textures and layouts are further based on photoreal technology, adding even further to the highly accurate recreation. And virtual recreation becomes even more lifelike with the night-time lighting.
There is also custom taxiway signage, taxiway runway guard lighting effects, animated jetway models, and the windsock model – all of which have been developed by Aerosoft for this simulator. This also continues with the photoreal aerial imagery which covers the bounds of the airport and the immediate surrounding areas.
Features:
A fully authentic and accurate virtual version of Cologne/Bonn Airport one of Germany's busiest
Highly accurate recreations of buildings, layouts, and textures based on Photoreal technology
Authentic and up to date runways and Interior Terminal models
Custom taxiway signage, runway guard lighting effects, animated jetway models, and windsock model
Custom aerial imagery of the entire airport
Lifelike night-time lighting
Highly accurate and detailed ground service equipment, general objects, and terrain
Submit a review of this product