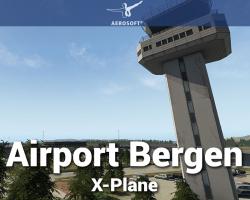 Media Format

Immediate Download

Compatibility

X-Plane 10.50+, X-Plane 11 and X-Plane 11/10 Steam Version

File size

1.4 GB
As one of the most important airports in Norway, Bergen Airport plays a major role in the nations aviation activities. The second largest airport in the country, Bergen makes the perfect place for you to turn to when you are looking for greater realism in this important European nation. As a truly enjoyable place to visit, you can make Bergen Airport the fun and hospitable place that it has been for so long.
This impressive and expansive airport provides you with the perfect chance to see just why Norway is noted as being one of the finest nations to live in. the tremendous quality of the scenery here shows you the real depth of Norwegian living. From the massive terminal building set for completion in the near future to the quality textured runways, you can enjoy a very impressive journey in and out of Norway.
Suitable for all X-Plane users, Airport Bergen delivers a comprehensive range of high-quality regional textures. Also, fully animated jetways are included alongside the correct plug-ins for the best performance possible. Alongside new lighting features, this offers you the perfect chance to see the bustling Bergen Airport at its best.
Animated service vehicles spring up and down the airport, too, showcasing the constant activity that takes place at such a location.
Key Features
Compatible with both X-Pane 10.50 and X-Plane 11.
An authentic recreation of Bergen Airport, perfectly portraying this massive airport in all of its glory. A fine choice for anyone looking to help complete Norway and make it more inclusive.
Impressive and authentic detail has gone into every single model, making sure that the whole airport is as hospitable as it possibly can be.
High-quality buildings and installations make sure that the airport looks as close as it can to the real thing. Authentic building designs help to fit in with the architecture of the landscape itself.
Animated taxiway, runway, and jetway add-ons help to add much-needed life and energy to the airport, making it look better than ever before.
Customized static aircraft helps to add a lot of extra volume to the airport. Now, Bergen Airport looks much closer to the density of population that you would expect of this airport.
Service vehicles make their way around the airport, adding extra life and an abundance of character to the airport as a whole.
The new terminal building has a very intricate interior design, with no stone left unturned to help create the most mesmeric interior of the building possible.
Winter season textures included so that you can see Bergen besieged by snow as much as it in a sublime summers day.
Night time effects help to make sure you can see where you are going.
Customized runway sloping and mesh helps to add even more realism and attention to detail.
Submit a review of this product
Customers Also Purchased