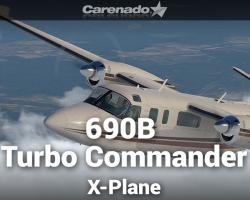 Media Format

Immediate Download

Compatibility

X-Plane 11

File size

430 MB
As one of the most popular aircraft created by Twin Commander, the 690B Turbo Commander has made a huge splash on the world of aviation. It first flew in 1976, and since then has become a bit of a cult hero for aviation fans. Itís a very impressive aircraft, making the most of changes to its weight ratings, engine usage (now using twin engines) and various special modifications creating what was, at the time, a very innovative aircraft.
For those who own X-Plane 11, this add-on brings to life a very popular aircraft from the 1970s. While it might not be as advanced as other Twin Commander models itís a very intriguing aircraft to fly. Flying an aircraft as challenging as the 690B Turbo Commander should be a really rewarding process. This is why every effort is made to make sure you can fly this aircraft on a modern simulator without taking away from the challenge real-life pilots would feel.
This is a very close take on the real thing, producing an aircraft that will feel quite different to many more modern iterations that you are used to flying. If you want to make X-Plane 11 even more immersive, the 690B Turbo Commander makes a fine choice.
Whatís New?
Highly impressive aircraft design, developed specifically for use with X-Plane 11.
New VR compatible features allow those with headsets to really enjoy the experience.
New FPS-friendly set-up, despite using full PBR textures, delivers consistently high performance.
Fresh and improved X-Plane 11 flight dynamics make the 690B an imposing but rewarding aircraft to learn how to fly.
New physics and ground handling adaptions make sure that the flight will always feel as realistic as possible, whilst still meeting X-Plane 11 standards every time.
Highly impressive attention to detail on the model and the scale of the aircraft ensures that every part of the aircraft is represented as realistically as was possible.
X-Plane GNS530 included, with FPS adjustments ensuring that it does not hamper or limit performance.
Fully GoodWay compatible, as well as offering full support for other features like RealityXP GTN750 (sold separately).
Realistic flight behavior based on real-life performance, with weight and balance adjusted to fit with the real performance that the 690B is capable of producing.
Whatís Included?
1 highly impressive model, with 5 HD liveries developed and also 1 HD blank texture.
New and improved Normal and Emergency Procedures PDF.
Performance Tables and Quick References PDF.
System References Guide PDF.
Recommended Settings PDF.
Submit a review of this product
Customers Also Purchased