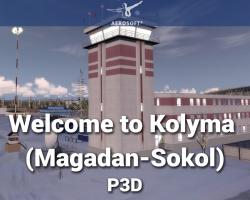 Media Format

Immediate Download

Compatibility

Prepar3D v4 & v5

File size

1 GB
If you are looking to help make Russia feel a touch more hospitable to fly over, this add-on for P3D is an absolute must. This takes the important Magadan-Sokol International Airport in north-eastern Russia and transforms it into a whole new look and style. Itís got photorealistic textures and a whole host of critical changes and improvements, which each one making the airport look more and more realistic.
The rich nature of the seasonal textures and the hand-placed 3D objects makes this airport look more authentic. From changes to the scenery and the features found to elevation changes based on the real thing, this helps to make the whole airport look much more like the real thing. This airport is a major part of the Magadan area of Russia and is a crucial part of getting to and from this vital harbor city in Russia.
Itís a major part of the municipality, with a population of around 93,000 in the city itself. The airport itself is situated upon the hills, along with the shore of the Tauisk Gulf and near the Okhotsk Sea. Itís for this reason that Magadan Airport is such an important part of the Russian aviation industry and their strategy. The fact that it allows for easy connection from this part of Russia to Moscow and far-east Russia allows for an easier exchange of people, commerce, and supplies.
If you like to take flights to Russia in P3D, use this add-on to help make those flights even more enjoyable.
Key Features
A fresh take on the air base, with new ground textures going from 1024-4096 x 4096 pixels in size, depending on the machine quality of your hardware.
Realistic layout, marking and scaling of the airport ensures that a trip here can feel as enjoyable as possible. Buildings, runways, platforms and aprons all accurately marked.
Photorealistic runways and aprons look great, really fitting in with the general theme and layout of this particular part of Russia.
Seasonal textures are included to make a trip here fun in both the summer and the winter without any drop-off in visual appeal.
High-quality realistic lighting at night makes it easy to see where you are going, too, vastly improving the quality of your aviation experience here.
Land classing for all surrounding areas helps to add further definition where needed, utterly transforming this unique part of Russian aviation and its surrounding areas.
Great FPS performance due to low memory usage, making this a fine choice for those who want to get better visuals without having to cash out on overall performance.
Submit a review of this product