This addon is compatible with
Microsoft Flight Simulator X
. It should also work with
Microsoft Flight Simulator X: Steam Edition
. Some developers have explicitly stated compatibilty with Steam Edition but others haven't. Check the product description below for guaranteed compatibility. Just because it doesn't mention it, this does not mean it will not work with the
Steam Edition
.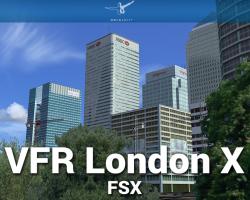 Media Format

Immediate Download

Compatibility

Microsoft Flight Simulator X

File size

1 GB
As one of the most popular cities in the world, this modification finally gives you London in a way that you would have imagined it to begin with. Thoroughly designed to capture the finest parts of this wonderful city, you'll now be able to enjoy a city of London with far more 3D additions and changes unlike many of its contemporaries out there. These designs will help you get used to the highly detailed and attractive city of London.
Using a photographic template from above, this does everything it can to capture that depth and detail that does all it can to make sure the city is accurate and faithful to the real thing! These massive changes do a great job of making the city of London come to life – airports included.
What's New?
The main changes introduced to this package come in the form of the 3D city itself – with more than 120km2 included, this is a city that does a wonderful job of showing you just how massive it is. The design throughout will ensure that you have no problem in maintaining the position that you have taken up within the city as its more or less accurate to the dot!
With 30,000 buildings and objects built from scratch you know you are seeing a wonderful city unfold in front of you as you fly over it – this looks wonderful and does a great job of capturing the detail which is so thoroughly below you. These extras do a wonderful job of changing the way that the entire location can feel.
This is improved by having 50,000+ new objects which include the likes of vegetation as well as industrial equipment like cranes. This is padded out further by the addition of the likes of boats and cars to help ensure the city looks as busy as it really is.
Looking forward to flying at night? Then you'll love this. London looks like two different places during the day and at night, and this does everything that it can to capture this depth and detail to the right letter. With the use of 60cm/pixel photographic scenery packages, you get a large and rich layer around you that is built around offering high resolution packages to ensure the city can really look the best that it can. Now, whether you fly at day or night, a stunning city unfolds around you!
New reflections are built from scratch to ensure that the glass in the city all has a genuine reflection coming from it. This looks wonderful and does a great job of making the whole city come together and look even better than it did before.
Suitable for use with VFR England & Wales volumes, as it also takes in similar areas and will work in tandem with this mod to look its best. This includes the City of London Airport which was first added in v1.10, and this looks like a truly realistic recreation of the real thing.
So, what are you waiting for? Let's go see London as it should be!
Submit a review of this product
Customers Also Purchased