This addon is compatible with
Microsoft Flight Simulator X
. It should also work with
Microsoft Flight Simulator X: Steam Edition
. Some developers have explicitly stated compatibilty with Steam Edition but others haven't. Check the product description below for guaranteed compatibility. Just because it doesn't mention it, this does not mean it will not work with the
Steam Edition
.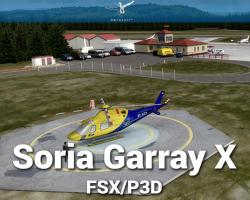 Media Format

Immediate Download

Compatibility

Microsoft Flight Simulator X inc. Steam Edition & Prepar3D (v3.3+ and v4)

File size

590 MB
A trip to the small and understated Aerůdromo de Soria Garray is always a fun trip for helicopter pilots.
This modern airfield built by Airpull Aviation offers an interesting little airfield to land in near the rural city of Soria. This small Spanish airfield comes with two runways: a 1024m edition, and a 520m edition. Itís a fantastic little airport, though, and this add-on for FSX/P3D ensures that it feels a lot more enjoyable to come to visit.
Now, it looks much more like the real thing. The runways are accurately represented in their correct space. So, too, is the lack of space for anything other than small charter flights and hobby flights. However, the runway length and airport layout make it a perfect place for conventional training aircraft.
Helicopters often land here, making it easy for you to land here with anything other than a full-sized airliner.
For those who like a more scenic flight, too, Soria Garray is a good place to start. Many national parks and various other mountains are in the near distance, creating a fun flight for training as much as for seeing some beautiful sights in the nearby area.
Whatís new?
A new and improved take on the Aerůdromo de Garray as well as many changes to the surrounding area, making it all look more in-depth.
Object density increased to help make sure there is as much space used as is possible, making the whole area look unique.
Static aircraft sits around the airport, making sure that it feels suitably busy and populated as you fly over/by.
The airport makes a fine choice for anyone who would like to take part in a more enjoyable VFR flight style.
Excellent for training and for general sight-seeing, with the Soria area being very friendly to newbie pilots.
P3D v3 users can enjoy working with Frank, the avatar that we have included to help you get up and into the air and to help your aircraft feel a touch busier.
New flight charts included for those who may need some help in navigating their way to this particular airfield.
Submit a review of this product