This addon is compatible with
Microsoft Flight Simulator X
. It should also work with
Microsoft Flight Simulator X: Steam Edition
. Some developers have explicitly stated compatibilty with Steam Edition but others haven't. Check the product description below for guaranteed compatibility. Just because it doesn't mention it, this does not mean it will not work with the
Steam Edition
.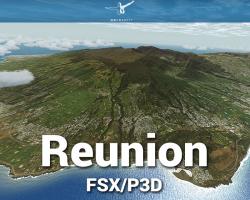 Media Format

Immediate Download

Compatibility

Microsoft Flight Simulator X inc. Steam Edition & Prepar3D v3, v4, v5

File size

1 GB
As one of the most stunning areas to visit in the world, Reunion is the definition of a paradise. Itís a stunning location, yet itís poorly represented in Microsoft Flight Simulator and in Prepar3D.
This add-on looks to improve upon the generic island present at the moment, adding realism and making sure the island looks far more like the tropical paradise that exists in real life.
Located on the Indian Ocean, Reunion sits around 750km from the coast of Madagascar and remains a stunning location untouched in the ways many other islands are not. Itís a 30-minute flight from Mauritius and delivers a unique flying experience for pilots new and old.
With activate volcanoes, high mountains, and stunning valleys to fly through, you will find flying around the island a much more enjoyable experience with this add-on.
Now, the island comes to life with spectacular changes to the whole area. Customized meshing, new autogen, fresh lighting (including at night), and many new fresh new landmarks make a huge difference to your overall experience on the island.
Those who fly here should find themselves able to land at the newly added Roland-Garros Airport, too, which will make it easy for most small-sized craft and helicopters to land here without any issue.
Itís also an add-on mostly compatible with popular add-ons like FSGlobal and UTDX, ensuring you can enjoy a sere flying experience in on the most stunning parts of the world.
Whatís New?
A recreation of the island of Reunion, with added meshing, autogen, and landmarks.
Hundreds of new objects added which are specific to the Reunion island, from bridges and solar fields to antennas and military spots.
Roland-Garros Airport included, including Le Port and Bras-Panon Airport. 3 minor heliports included, too.
Lighting improved overall including night lighting and 3D lighting for improved visibility.
Improved changes to the database improve performances and reduce the change of database clashes and crashes.
Immersive aerial imagery used to help improve accuracy and attention to detail, with volumetric lighting offering changes from dusk to dawn.
Improved animation via new animated jetways and customized apron traffic.
Performance-friendly imagery used for better frames per second when on the island.
Fully compatible with major add-ons such as FSGlobal and UTX.
Manual offered to help with installation and navigation.
Submit a review of this product