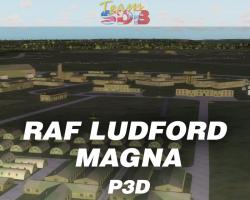 Media Format

Immediate Download

Compatibility

Prepar3D v4, v5

File size

31 MB
At 430 feet above sea level, RAF Ludford Magna was the highest airfield in Lincolnshire which gave it a very exposed position. The main runway was aligned north to south which caused problems for aircraft of the day, especially Lancasters which could be a handful on take-off and landing in a crosswind.
The airfield was opened under the command of No 1 Group on 15th June 1943 with Lancasters of No 101 Squadron arriving from their former Yorkshire base of Holme-on-Spalding Moor and staying for the duration.
All flying ceased in 1945 and the airfield was placed on Care and Maintenance. In 1958 part of the airfield was reactivated for use with Thor ICBMs (Inter-Continental Ballistic Missile).
No 104 Squadron was formed in July 1959 to operate three ICBMs under the RAF Hemswell Missile Wing. Thor ICBM facilities stayed at the airfield until May 1963 when the missiles were withdrawn and the squadron disbanded.
The airfield is accurately laid out but some license was used for the infrastructure. It is representative of the period.
The scenery consists of:
A full complement of hangars and support buildings
The technical site and accommodation representative of the period
Operational night lighting
Dynamic night street lighting in Prepar3D v4
Avro Lancaster by kind permission of Dave Garwood.
Modified for Prepar3D v4 AI and scenery object use by Team SDB
Team SDB Supports Help for Heroes and the RNLI - Royal National Lifeboat Institution
Submit a review of this product