Niagara Falls/Buffalo Scenery US Cities X for FSX/P3D

1 reviews


This addon is compatible with
Microsoft Flight Simulator X
. It should also work with
Microsoft Flight Simulator X: Steam Edition
. Some developers have explicitly stated compatibilty with Steam Edition but others haven't. Check the product description below for guaranteed compatibility. Just because it doesn't mention it, this does not mean it will not work with the
Steam Edition
.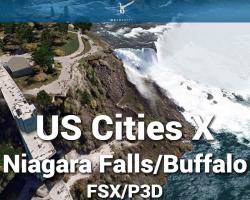 Media Format

Immediate Download

Compatibility

Microsoft Flight Simulator X inc. Steam Edition & Prepar3D (including v4)

File size

750 MB
As one of the most beautiful places to visit in the whole of the United States, a trip to Niagara Falls is a must – and also a trip to Buffalo.
With this US Cities X add-on, though, you make sure that any trip to this spectacular city soon becomes very easy indeed to put together. A trip here is sure to make it easy for you to enjoy yourself, as is the rich and added detail to the whole of the Niagara Falls area.
With this add-on, you get a cross-national change as this will affect much of the Niagara Falls in Canada.
As one of the most beautiful tourist attractions in the world, this stunning piece of land should very quickly help you to some amazing sights you aren't used to seeing in FSX/P3D.
The fresh animation, the amazing sights and the unprecedented level of detail ensures this is almost certainly the perfect place to start.
This scenery gives you access to a host of new places to land, too, with major airports and helipads added. This helps you to fly to both USA and Canada and find an easy to land location that should ensure you can land without any worries regarding fuel consumption.
With so many new spots to land at for both aircraft and helicopters, staying safe when flying over Niagara Falls just became pretty simple!
What's New?
Impressive aerial imagery using as much as 15cm/pixel quality aerial shots via Google Earth. See the attached file for reference.
Various new buildings placed along the Falls and in the city of Buffalo to help make sure you can see more than 850 new buildings appear specifically.
Over 70,000 new autogen images make sure the whole city and wider area changes to look much more like it does in reality.
Impressive animation of the Falls themselves allows for you to see a much more life-like take on a major natural landmark.
Awesome new sightseeing slots such as Skylon Tower, SkyWheel, the Spanish Cable Car crossing, Marineland (with animated Orcas!) and much more.
Immersive new detail throughout the region, with the sound from traffic, the waterfalls, and the bustling city all working together in great harmony.
Traffic on all major roads is now included.
Reduce loading times and item density with the use of the added Scenery Density tool.
What's Included?
One of the major changes to the city is the inclusion of a whole host of major airports. The airports around the city are included with a whole new host of ground imagery (but no new 3D structures) to airports including:
KBUF – Buffalo Niagara International Airport
KIAG – Niagara Falls International Airport
D77 – Buffalo-Lancaster Airport
0G0 – North Buffalo Suburban Airport
9G0 – Buffalo Airfield
CNJ3 – Ft Erie
NY49 – Mesmer
77NY – Pendleton Airpark
79NY – Smith
62NZ – Lockport Cambria
85N – Hollands Intl Field
D80 – Olcott-Newfane
63NY – Shear
NY24 – Taylor
Also, a whole range of new heliports were added across the city in high levels of detail, including:
CNF9 – Niagara Helicopters
INK80 – Rainbow Helicopters Niagara
7NK2 – Buffalo Women and Children's Hospital Helipad
CNF7 – Niagara Falls Fire Station No.1
CNJ3 – Ft Erie Helipad (part of the airport)
Customer Reviews
Rated 5.0/5.0 based on 1 customer reviews
01/16/2020

5

/

5

Verified Purchase

This scenery works very well in P3Dv3. I have not tested it in version 4. I particularly liked the animations and sounds. Can't beat the price.
Submit a review of this product