This addon is compatible with
Microsoft Flight Simulator X
. It should also work with
Microsoft Flight Simulator X: Steam Edition
. Some developers have explicitly stated compatibilty with Steam Edition but others haven't. Check the product description below for guaranteed compatibility. Just because it doesn't mention it, this does not mean it will not work with the
Steam Edition
.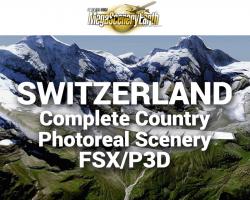 Media Format

Immediate Download

Compatibility

Microsoft Flight Simulator X and Prepar3D

File size

8.4 GB
Commonly thought of as the capital of wealth, power, banking and just about anything else we consider to be important in modern society (at least in Europe!) Switzerland is a nation which brings a huge amount of interest in it from across the world. From being the seat of the UN and the home of global organizations such as FIFA, this is a country that brings a huge amount of attention its way despite being a relatively modest – and cold – country. From the skiing adventures on the Alps to the life of luxury that can be experienced in the main cities, it's easy to see why Switzerland would appeal to those with a bit of money behind them!
If you want to see Switzerland but don't quite see it fitting in with your budget for a holiday, then why not take the next best option and download this package? Giving you an impressive 15,940 square miles of totally realistic coverage, you will get to see an end-to-end recreation of Switzerland in all of its glory. From the massive snowy mountains to the deep and encasing valleys, this is a truly remarkable part of the world and is well worth seeing in full detail.
The entire country is represented here with the main cities covered, too. You'll get to see massive marvels such as Basel, Zurch, Geneva and Bern amongst many other others. However, whilst the cities look absolutely tremendous, the amazing landscape of the country is without a doubt one of the most amazing parts about this country. With the Monte Rosa standing at a barely believably 15,200ft and other landmarks such as the Dorn, Lyskamm and Dent Blanche to name but a few of the Swiss mountains, you'll find that natural beauty and class surrounds you on just about every side!
The Reuss, Thur, Rhine, and Aar rivers all run through this nation, too. This brings everything together and connects it up with other nations like Germany, creating a really interesting look to the entire country. If you want to see how this looks in the best detail possible then you need this package; it's the only package out there that actually covers the entire nation at once. With cities dealt with in stunning detail and natural landmarks and locations all dealt with in the same way, this makes an incredibly big difference for anyone who wants to see what this amazing nation can be like when you first turn up to see it!
This package lets you take on the booming mountain peaks and allow you to fly into and from 44 uniquely designed airports. If you are a fan of Switzerland, or even a Swiss national, why not consider picking this up to let you see the country in all of its natural – and manmade – glory? It's a true heaven on earth style of country, and is captured here in the most stunning detail that you can possibly imagine. It brings everything together in truly awesome fashion!
Submit a review of this product
Customers Also Purchased