This addon is compatible with
Microsoft Flight Simulator X
. It should also work with
Microsoft Flight Simulator X: Steam Edition
. Some developers have explicitly stated compatibilty with Steam Edition but others haven't. Check the product description below for guaranteed compatibility. Just because it doesn't mention it, this does not mean it will not work with the
Steam Edition
.
Sound Pack Compatibility Note: This sound pack will work with any aircraft model, both freeware or payware in FSX and P3D.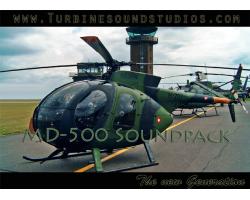 Media Format

Immediate Download

Compatibility

Microsoft Flight Simulator X inc. Steam Edition and Prepar3D (all versions including v4)

File size

38 MB
When you get into the pilot' seat of a helicopter like the Hughes 500, you expect to hear a lot of noise. This new and improved Turbine Sound Studios package will help to add that missing link to the best quality of atmosphere. Not only is this aircraft a very popular military aircraft during the Vietnam War, but the MD-500 soon became a vital part of civilian life.
These light observational choppers are nimble, accurate agile and very easy to fly. Having been around since the 1960s, they are a popular part of the civilian helicopter niche. However, just like any other aircraft in FSX and P3D, the audio experience can feel generic and lacking. This helps to add the fun sounds that you can learn from, making you both a better pilot and a more precise pilot.
The aircraft was a major part of the Hughes Aircraft range until their purchase by McDonnell Douglas in the 1980s. Part of what makes these aircraft so good for both civilian and military purpose is their quiet nature. It's flexible an easy to fly, it's quick and comfortable to control and it's also very hard to detect due to low noise pollution for an aircraft.
With a five-blade main-rotor and four-blade tail rotor, this has more than enough lift to keep it in the skies for a long time to come. Now, with the help of the new sounds, you can enjoy a much more enterprising and inviting experience overall. These new sounds do a great job of making sure that the stalker-like silence and the nimble nature of the MD-500 is captured accordingly here.
High-quality recordings were used for every part of the experience. This helps to make this helicopter fun to fly, and fun to listen to.
Key Features
A high-quality range of recordings by TSS mastered and optimized to make sure they offer both the best cinematic quality and the correct theatrical accuracy.
New sounds that cover everything that you would normally expect in a sound package. From start-up to shut down, this makes sure that your MD-500 sounds just right.
Internal and external engine sounds, changing in terms of volume depending on where you are. This really creates a more immersive experience, with sounds specific to location.
Complete engine sounds which are also tailored to the situation: you'll never hear a sound which is at odds to the reaction or performance of the aircraft.
Better cockpit environment sounds, from the Gyros to the cooling systems all kicking into action. Sounds react to the actions that you take, making every sound have a purpose
Immersive quality put into the aircraft, with sounds and ambient changes allowing for the best possible level of immersion in context to what is taking place on-screen.
Submit a review of this product
Customers Also Purchased