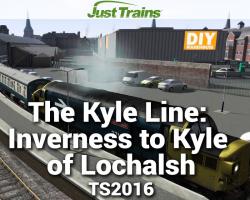 Media Format

Immediate Download

Compatibility

Train Simulator 2016

File size

700 MB
'The Kyle Line', as it is sometimes known, is one of Britain's greatest railway journeys. The line runs from Dingwall to Kyle of Lochalsh on the west coast of Scotland, but most passengers tend to start their journey at Inverness.

This Just Trains route runs for 83 miles and includes 17 finely modelled stations, eight localised reskins for the default Class 37 which have been enhanced with realistic dynamics, 14 Standard and two Free Roam scenarios, and numerous custom buildings and objects.

Inverness is the capital of the Highlands, located 158 miles north of Edinburgh and 561 miles from London, but still well over 100 miles away from John O'Groats at the very northern tip of Scotland!

From bustling Inverness with its impressive station and Train Maintenance Depot (TMD) with automatically operating roller shutter doors, we head west and proceed over the Caledonian Canal via its unique swing bridge - see the bridge swing closed as you approach it to allow you to cross.

From them on you are driving beside various lochs, through farmland, dense forests, alongside craggy steep rock faces and over numerous streams. Along the way you will see 17 stations, including the one with the shortest platform in the UK!

As you get further in your journey the land starts to open up and you really do feel the expanse and remoteness of the Highlands. Not far from Kyle you will pass under the unique snow shelter covering the line near Attadale before arriving at the end of the line at Kyle of Lochalsh station.

Driving the route is a real pleasure and a memorable experience!

Note:Additional stock (not supplied) is required to enable all the scenarios to be operated. Please see the Scenario details and System Requirements sections below for details.

ROUTE FEATURES
17 new stations
Numerous custom objects
Route length: approximately 83 miles
Carefully detailed and very immersive scenery
14 Standard and two Free Roam scenarios (some require additional stock)
Route is Quick Drive enabled
Localised default Class 37 reskins, enhanced with authentic dynamics

STATIONS
Inverness
Beauly
Muir of Ord
Conon Bridge
Dingwall
Garve
Lochluichart
Achanalt
Achnasheen
Achnashellach
Strathcarron
Attadale
Stromeferry
Duncraig
Plockton
Duirinish
Kyle of Lochalsh

CUSTOM BUILDINGS and OBJECTS
Inverness TMD
Inverness carriage shed
Clachnaharry swing bridge
Clachnaharry signal box
Garve footbridge
Lochluichart power station
Achanalt station cottage
Attadale station building
Achnasheen footbridge
Strathcarron Hotel
Various houses and bungalows
Kyle of Lochalsh signal box
Kyle of Lochalsh station bridge/ramp
User-worked crossing (Scottish style)
RETB signals
Highland cows
Modern road bridge
Dingwall goods office
Various industrial offices/buildings
3D trees
Just Trains signalling pack
Dockside assets
Various stone/steel bridges
Achanalt Viaduct
Conon Bridge
Various trackside signs, buildings and features
New lineside huts (two Scottish styles)
New fencing
Multiple Unit speed signs
Isle of Skye road bridge

RESKINS

We have included a set of eight reskins for the default Class 37 locomotive.

JT 37 Blue - a BR Blue version of the Class 37 which was limited to locomotives that were seen at Inverness in the 1980s: 37008, 37023, 37032, 37040, 37046, 37070, 37097, 37101, 37107, 37109, 37113, 37119.

JT 37 Blue 017 - BR Blue Class 37 with white stripe along the lower body side, a marking of Eastfield TMD in Glasgow at the time.

JT 37 Blue 033 - Class 37 in BR Blue with a small BR logo and large number, also carrying a 'Highland Rail' decal on the side of the cab.

JT 37 LL 025 - Inverness Depot's most famous locomotive and their 'pet engine' for many years. 37025 'Inverness TMD', Large Logo Blue with Highland Rail decals.

JT 37 LL 011 - Class 37 in Large Logo Blue with a West Highland Terrier on the side – a type of livery more commonly seen on locomotives operating via the West Highland Line to Fort William and a marking of Eastfield TMD, Glasgow.

JT 37 LL 035 - Class 37 in Large Logo Blue with Highland Rail decal on cab side. The Highland Rail 'Stag' logo was a marking of the Inverness TMD during the 1980s.

JT 37 LL 112 - Class 37 Large Logo paint but with small numbers and BR logo.

JT 37 LL 114 - Class 37 in Large Logo Blue with Highland Rail decal on cab side. The Highland Rail 'Stag' loco was a marking of the Inverness TMD during the 1980s. The name 'Dunrobin Castle' comes from a large castle adjacent to the Far North Line between Brora and Rogart.


CUSTOM CLASS 37 DYNAMICS FOR THE INCLUDED RESKINS

We have updated and improved the operation and driving dynamics (engine and braking performance) to be more realistic:
Improved tractive effort and performance
Realistic Westinghouse M8 air brake control
Power handle with Off notch and laggy engine response to changes in the handle position
Reverser lever with Engine Only, Reverse, Neutral and Forwards notches, with the Engine Only position disabling brake release and resetting the AWS self- test
AWS self-test activated by moving the reverser into Neutral after being in the Engine Only position
Realistic in-cab Ammeter readings
Realistically dynamic engine exhaust fume and clag particles
Optional AWS info messaging system for when driving outside of the cab
Train Simulator simple mode compatible

SCENARIOS

Please note that although some of the scenarios use the default locomotives and rolling stock or stock supplied by The Kyle Line, there are some which require extra items to allow them to run correctly. The descriptions below indicate which additional assets are required:

Locomotives followed by 'Steam' in brackets can be purchased from the Steam website:
Class 158 DMU Add-On
Class 156 Loco Add-On
EWS Class 66 v2.0 Loco Add-On
Locomotives followed by 'JT' in brackets can be purchased from the Just Trains website:

• Cargowaggon Flat IGA PlusPak
• YGB Seacow PlusPak Advanced
• VGA/VKA Wagon PlusPak


Standard scenarios

2H87 18:36 Inverness-Kyle (Class 156, 1992)

Required stock: Class 156 Loco Add-On (Steam)
Duration:170 minutes
Drive the 18:36 Inverness-Kyle of Lochalsh throughout on a glorious May evening.


A Day In The life Of An Inverness Driver Part 1

Required stock: Default and supplied with route
Duration:160 minutes
Drive 37112 on 2H80 07:10 Kyle of Lochalsh-Inverness in June 1986.


A Day In The life Of An Inverness Driver Part 2
Required Stock: Default and supplied with route
Duration:15 minutes
Take 37112 from the buffers at Inverness to the depot, where it will remain for the afternoon prior to working back to Kyle later.


A Day In The life Of An Inverness Driver Part 3

Required Stock: Default and supplied with route
Duration:10 minutes
Move 37011 from Inverness TMD to the station in preparation to work 2H85 17:55 Inverness-Kyle.


A Day In The life Of An Inverness Driver Part 4

Required Stock: Default and supplied with route
Duration:180 minutes
Drive 37011 on 2H85 17:55 Inverness-Kyle.


Class 158 – 2H81 08:55 Inverness-Kyle

Required Stock:Class 158 DMU Add-On (Steam)
Duration:155 minutes
Drive a Class 158 on the 2015 timetable from Inverness to Kyle of Lochalsh. The service is 2H81 08:55 Inverness-Kyle of Lochalsh, arriving at Kyle at 11:30.


Class 66 EWS – The Pipe Train

Required Stock:EWS Class 66 v2.0 Loco Add-On (Steam) & Cargowaggon Flat IGA PlusPak (JT)
Duration:40 minutes
Drive 66104 on the 6X88 Hartlepool-Georgemas Junction loaded pipe train between Inverness and Dingwall.


Evening Ballast Train

Required Stock:YGB Seacow PlusPak Advanced (JT)
Duration:200 minutes
Drive 37025 on a loaded ballast train from Millburn Yard to Strathcarron in 1986. You will have the line mostly to yourself, so enjoy this evening's trip!


JT VGA – Lairg Speedlink (1987)
Required Stock: VGA/VKA Wagon PlusPak (JT)
Duration:60 minutes
Drive 37114 'Dunrobin Castle' on 7H38 Lairg-Inverness Speedlink in the spring of 1987.


Kyle Line Photo Charter

Required Stock: Default and supplied with route
Duration:400 minutes
Drive 44871 on a photo charter along the Kyle Line in 2018. You will perform numerous run pasts along the way, but thankfully there is only one train a day each way on a Sunday!


Learning The road To Kyle

Required Stock: Default and supplied with route
Duration:170 minutes
Drive 37114 on 2H87 11:10 Inverness-Kyle in July 1988. Messages along the way will help you learn the route.
Note: Drive this scenario before trying the route in a DMU.


The Highland Fling

Required Stock: Default and supplied with route
Duration:180 minutes
Drive Inverness TMD's 'Pet' loco No. 37025 'Inverness TMD' on the 'Highland Fling' railtour as it returns south from Kyle of Lochalsh on Saturday 5 October 1985.


The North Briton Part 1

Required Stock: Default and supplied with route
Duration:230 minutes
Drive 45407 on 'The North Briton' from Inverness to Kyle of Lochalsh whilst working the North Briton in April 2008.


The North Briton Part 2

Required Stock: Default and supplied with route
Duration:350 minutes
Drive 45407 on the returning North Briton tour from Kyle to Inverness. The real journey ran much later than anticipated and caused utter chaos – will you fare better?


Free Roam scenarios

Inverness Free Roam
Click on a train and take it for a drive!

Kyle of Lochalsh Free Roam
Click on a train and take it for a drive!


SYSTEM REQUIREMENTS
Train Simulator 2016
Train Simulator: European Loco & Asset pack (if you owned Train Simulator before September 2012 then you should have this pack installed by default)

Note: For certain scenarios to run correctly, the following stock is required:
Steam: Class 158 loco Add-on, Class 156 DMU Add-on, EWS Class 66 v2.0 Loco
Just Trains: Cargowaggon Flat IGA PlusPak, YGB Seacow PlusPak Advanced, VGA/VKA Wagon PlusPak

3.0GHz PC or any Dual Core
Windows 8 / 7 / XP / Vista
512MB RAM (1GB for Windows Vista / 7 / 8)
256MB video card with Pixel shader 2.0 (AGP/PCE only)
Direct X 9.0c compatible sound card
889MB hard drive space
Submit a review of this product