Genoa X Scenery for FSX/P3D

1 reviews


This addon is compatible with
Microsoft Flight Simulator X
. It should also work with
Microsoft Flight Simulator X: Steam Edition
. Some developers have explicitly stated compatibilty with Steam Edition but others haven't. Check the product description below for guaranteed compatibility. Just because it doesn't mention it, this does not mean it will not work with the
Steam Edition
.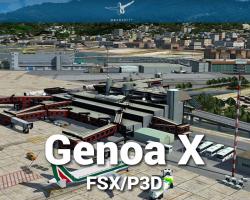 Media Format

Immediate Download

Compatibility

Microsoft Flight Simulator X inc. Steam Edition & Prepar3D v3 and v4

File size

860 MB
As one of the cities richest in history in Italy, the city of Genoa brings many people here with good reason.
Whether you come here to enjoy the amazing scenery or to get away from the busier cities, a trip to Genoa is always recommended.
However, flying here in FSX, FSX: Steam Edition or Prepar3D v3/4 can feel somewhat underwhelming. With Genoa X, that problem soon grinds to a halt.
Now, arriving in the city, you can see many of its major landmarks brought to life. This beautiful harbor city is among the most stunning in Europe, as is the amazing Sestri Cristoforo Colombo Airport.
This add-on helps to bring a key part of Italian aviation to life. As you take your trip to land at the new and improved airport, you'll need to work through the hub of ships and cranes which litter the docks.
As a major connecting airport, too, Sestri Cristoforo Colombo Airport has long been a gateway to the Iberian Peninsula.
With high-quality services delivered by low-cost airlines, you'll get to enjoy an airport that delivers affordable travel with no reduction in flight quality.
Add this to your airport listing, and you can make one of the most important Italian cities spring to life like never before.
What's New?
A stunning take on the Sestri Cristoforo Colombo Airport and parts of the city of Genoa, using 0.5cm/pixel scenery across 187 square kilometers of space.
Over 80,000 new buildings placed across the city, with various new models for the city buildings and the major harbor of the city.
4K textures used for the airport and its terminals, helping to really add that extra shine and detail where possible.
Accurate layout and placing of all airport facilities, such as night lighting, runways, aprons, and general surroundings.
Up to date imagery used across the city, with night lighting used to help capture the city.
Accurate renders of major landmarks within the city using a massive number of different images included.
Completely re-developed and accurate AFCAD system included here.
Classic airport runway over the sea now carries a completely customized "ramp" for easier take-off.
New visual guided docking system for both FSX and P3D editions of the add-on.
ILS offset of 2 degrees included.
Numerous static objects sit around the city and the wider airport, form many boats and buses, cars, trucks and more.
New animated windsocks and 3D volumetric grass used for extra attention to detail across the cit.
SODE moving jetways added in, with T-type bridges included for the first time on P3D/FSX platforms.
High-quality bespoke aircraft included throughout the airport, including models like the Bell 412 SP, Hughes NH-500MC, and Piaggio P-180 Avanti.
Richly detailed 3D PAPI lamps and lighting helps to improve visibility massively across the board.
Fully compatible with major add-ons such as FTX Global and FSGlobal meshing.
Scaling and smart loading of all features to help keep frame rates high and performance strong.
Performance optimization and control to ensure that the whole airport can feel as immersive as is possible.
New and improved manuals and charts included for simple installation and navigation of the airport.
Customer Reviews
Rated 5.0/5.0 based on 1 customer reviews
11/22/2018

5

/

5

Verified Purchase

Good evening. Purchased and installed without difficulty. From a first fast flight I see that near the MORANDI bridge cars run below and not on the new route of the collapsed bridge this summer. IF I FIND OTHER THINGS SIGN Giorgio Scalabrin Bolzano ITALY
Submit a review of this product
Customers Also Purchased