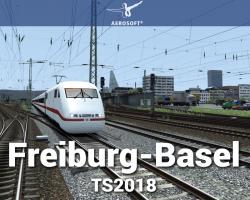 Media Format

Immediate Download

Compatibility

Train Simulator 2018

File size

1.5 GB
Taking a trip from the German town of Freiburg to the Swiss town of Basel can be a wonderfully picturesque journey. For Train Simulator 2018 users, though, it might all feel a little too dull and generic. This high-quality add-on helps to change the route up, making this scenic journey as enjoyable as it should be.
Starting from Freiburg im Breisgau and going to the Basel Badischer Bahnhof, this gives you a very fun trip through the Rhine valley. It's a stylish part of the European railway network and should be celebrated as a fun journey that leaves a positive impression. A commonly used part of the rail journey across Germany, this add-on looks to make sure it's got the detail that a railway of this importance should have.
The route itself is very important for various reasons, not least the fact that it's a major interconnecting travel route to both Switzerland and France via Germany. It's also the best way to get to the Gotthard Base Tunnel, first opened in 2016.
Key Features
A close take on the route as of 2014, making sure that this part of your rail journey can feel much closer to the real thing, spanning a deeply impressive 80km along the way.
The authentic high-speed route is included that goes from the Katzenbergtunnel to Haltingen and Schliengen. The old route via the Rhine valley is included, too.
A freight batch line, too, via Freiburg, is included.
20 unique train stations added and improved to the closest modelling possible to fit in with its real-world counterpart.
Detailed objects and buildings along the way helps to make the entire experience feel a touch more unique and engaging.
Authentic track layout and overhead wire layouts making sure that the whole trip can feel as realistic as it should with regards to the layout of key factors.
Winter textures are included, too, making sure that all terrain perfectly matches up with the look of the season as well as the architecture of the location.
HV signal systems include.
Double-decker cars are included for use with regional traffic, while Locomotive classes 111 and 189 are included, too alongside ICE 1.
Get access to freight wagons for certain purposes, mainly used for lorry transportation and similar needed pursuits.
10 unique scenarios to play through via Career Mode, or simple scenarios to be engaged with using the Quick Drive feature.
Submit a review of this product