This addon is compatible with
Microsoft Flight Simulator X
. It should also work with
Microsoft Flight Simulator X: Steam Edition
. Some developers have explicitly stated compatibilty with Steam Edition but others haven't. Check the product description below for guaranteed compatibility. Just because it doesn't mention it, this does not mean it will not work with the
Steam Edition
.
Sound Pack Compatibility Note: This sound pack will work with any aircraft model, both freeware or payware in FSX and P3D.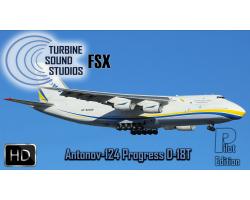 Media Format

Immediate Download

Compatibility

Microsoft Flight Simulator X inc. Steam Edition and Prepar3D (all versions including v4)

File size

159 MB
Turbine Sound Studios proudly presents the Antonov-124 Progress D-18T Pilot Edition sound package for FSX / P3D recorded in HD High definition.
This product has been developed for the Antonov-124 model by Thomas Ruth. ( Link for download is included in this product )
This sound package includes the following:
110 individual sound files.
External engine sounds.
Internal engine sounds.
Wind sounds.
Cockpit environment sounds.
Geardown sounds.
Gear up sounds.
APU Sound.
PTU Sound.
And much more.
All recorded in HD and compiled to meet Microsoft Flight simulator specifications.
Externally, the An-124 is similar to the American Lockheed C-5 Galaxy, having a double fuselage to allow for a rear cargo door (on the lower fuselage) that can open in flight without affecting structural integrity. It is slightly shorter, with a slightly greater wingspan, and a 25% larger payload. Instead of the Galaxy's T-tail, the An-124 uses a conventional empennage, similar in design to that of the Boeing 747.
The aircraft uses oleo strut suspension for its 24 wheels. The suspension has been calibrated to allow landing on rough terrain and is able to kneel to allow easier front loading.The plane has an onboard overhead crane capable of lifting up to 30 tons of cargo, and items up to 120 tons can be winched on board.
The Progress D-18T (or Lotarev D-18T) is a three-spool, high-bypass turbofan engine rated at more than 20,000 kg (44,000 lb) of thrust and designed to power very large transport aircraft.
PLEASE NOTE: Sound quality can be reduced in the promotion video ( Video converting )
Submit a review of this product
Customers Also Purchased