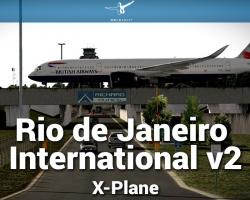 Media Format

Immediate Download

Compatibility

X-Plane 10.40+, X-Plane 11 and X-Plane 11/10 Steam Version

File size

490 MB
As one of the most important airports in Brazil, Rio de Janeiro International plays host to millions of passengers per year. Itís the perfect location for those who wish to arrive in the bustling Brazilian hub of culture.
However, a trip here ordinarily in X-Plane might feel somewhat underwhelming. This add-on, though, looks to change all that. By including changes across the board, this helps to ensure that X-Plane 10.40-11 users can enjoy a much more immersive and specific looking airport.
Everything has been adjusted to be as real and as close to Rio de Janeiro International as is possible.
Impressive new changes to lighting, locations, layout, and texture detail help to improve the whole airport.
New hangers, buildings, decks, patios, taxiways, and runways all come to Rio de Janeiro International. So, too, do various other changes such as new terminals, all to help ensure that this matches up with the real Galeao Airport.
A must-have for those who wish to make one of the most important gateways into South America feel even more welcoming.
As one of the busiest airports in the country and continent, this helps to replicate that busy nature, immense size, and scale as closely as possible.
Whatís New?
A transformative take on the airport, with new textures and occlusion environment, changes to help improve the whole airport.
Various new changes to the overall location included, such as the famous Christ the Redeemer statue.
Animated Jetways included for those who use AutoGate.
New animated objects, people, traffic and aircraft move around the airport and in the skies.
New underpass solutions modeled underneath runways M and N.
ALS system designed from scratch for input into the simulator.
Construction work expanded upon and improved to further improve the scale of RDJ International.
A whole host of new graphical adjustments take place outside the norm. New jetway textures, new patio floor, and track textures are included.
Improved location and layout of the whole airport, with additions such as the new Pier South Terminal as well as the new Patio Loads Terminal.
Better visual change to the likes of patio lighting, boarding bridges, and even finger textures.
Improved performance management allows for better control despite the added attention to realism and detail.
Lite edition included for those with lower spec hardware who still wish to improve and modernize the airport.
Fully compatible with popular add-on scenery such as AutoGate (AutoGate required, sold separately).
Easy to follow manuals and charts to help with easy tuning and navigation around the airport.
Submit a review of this product