This addon is compatible with
Microsoft Flight Simulator X
. It should also work with
Microsoft Flight Simulator X: Steam Edition
. Some developers have explicitly stated compatibilty with Steam Edition but others haven't. Check the product description below for guaranteed compatibility. Just because it doesn't mention it, this does not mean it will not work with the
Steam Edition
.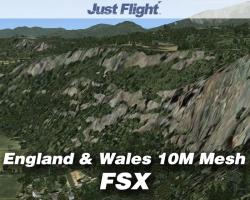 Media Format

Immediate Download

Compatibility

Microsoft Flight Simulator X

File size

606 MB
One of the major problems that comes with using FSX and other simulators is the lack of realism outside of major world areas – even in parts of the UK, this can be felt. With this mod, though, you can finally change the entire way that meshing is working throughout England and Wales.
If you are unsure of what you would expect to get with England and Wales, then this mod will give you a much clearer idea of what these two nations look like!
What's New?
Makes use of the proper elevation points within the ground, helping you fly across terrain that is as bumpy – or as flat – as the real terrain it is based on. Since FSX makes use of interesting terrain data to make it as accurate as possible, this mod gets involved further and make sure the attention to scale, detail and location is perfect.

The data that FSX uses originally, though, is quite limited in scope and this mod adds far more precision and realness to the world in general. The vast majority of the UK is running with 76m differences between elevation points which means everything can feel a bit unrealistic at times.

With this mod, though, you get a far more detailed level of change. Elevation points now come every 9.6m, making sure that there is as much as 64x the original detail what was included in the old terrain. This helps to sell a far more authentic look and feel of the two nations.

Mountains now show all of their real crags and the minor details that make them stand out from one another, alongside everything from railway cuttings to elevated roadways and riverbanks that were once invisible now burst into life.

Makes use of the idea of creating terrain that is higher detail than before. The old looks and feels of the terrain is gone, replaced instead with authentic designs that took many months to create. The long-term research, implementation and eventual capturing of the real look and feel of England and Wales is made much easier than ever before thanks to this mod.

It deeply captures elements that previously would have been missed or left out, allowing for many minor and local hotspots and landmarks to finally look like their real-life counterparts. The perfect solution for anyone who wants to enjoy a profusely engaging and exciting new look for England and Wales.
Submit a review of this product
Customers Also Purchased