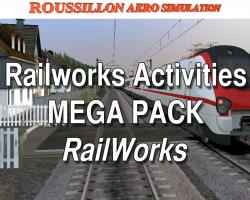 Media Format

Immediate Download

Compatibility

RailWorks

File size

25 MB
This package includes Railworks Activities Volumes 1 through 5 for at least 100 hours of simulation time. The realistic simulation includes loading and unloading freight cars, transporting passengers, and much much more. Learn about the different types of trains and their various uses all while exploring hotspots throughout the United Kingdom. Travel along Britain's West Coast Main Line, also known as the "Rail Backbone," while learning the ins and outs of this complex series of connections and.
Enjoy the beautiful scenery of Scotland while you travel the rails of Glasgow and its surrounding area. Explore the rails around Carlisle, York, Paddington, or Oxford and see how these cities thrive through the use of trains. Or add a little excitement by carrying a nuclear shipment. This Mega Pack is perfect for train lovers and those looking to learn about how a train operates.
The Mega Pack includes over 50 different railways and 20 different trains scattered across Great Britain for one low price. Let your kids or that train fanatic you know and love experience the wonders of the Brittish Islands arguably the best way out there, by train. And if you're looking for simulator for training purposes then expand your horizons with the RAS Railworks Mega Pack. The simulator expansion pack includes realistic driver controls and cab view.
Practice the skills you would need to navigate the busy railways of the United Kingdom in a realistic simulation. Try your hand at 60 different scenarios and activities both in and out of the train.
From passengers to livestock, cement, and hazardous material this simulation has a bit of everything for the want-to-be conductor or the greenhorn; even the more experienced drivers can use the simulations to brush up on forgotten talents or explore the United Kingdoms. Practice inter-city commutes or cross-country services from the comfort of your own home.
Manufacturers Description
Over 100 hours of driving in this mega pack. You will have to transport passengers, freight, do some handling and much more on all the greats Railworks and on the WCML North lines.
RAS Railworks Activities Vol.1 (RailWorks with West Coast Main Line North required.)
Carlisle – Glasgow Express (HST FGW With)
Carstairs – Glasgow Commuter (Class 166 DMU FGW White)
Cross-Country Service 01 (Class 166 DMU FGW Blue)
Cross-country Night Service (Class 166 DMU FGW Blue)
Glasgow Daily 1 (Cass 166 DMU FGW White
Glasgow Daily 5 (Class 166 DMU FGW Blue
Glasgow Daily 6 (Class 166 DMU FGW White)
Daily Service 4 (Class 380 EMU Scotrail)
Daily Service 8 (Class 380 EMU Scotrail)
Glasgow – Carlisle Commuter Service (UK Class 86)
Lockerbie – Hamilton West Special (UK Class 86)
Daily Freight Service (Class 55 BR Green)
RAS Railworks Activities Vol.2 (RailWorks with Class 170 & 171 required.)
Paddington – Didcot Daily Service (Class 170 DMU SP)
Oxford – Paddington Semi-Fast (Class 171 DMU S)
Reading – Paddington Daily Service (Class 170 DMU CT)
Newcastle – York Daily Service (Class 170 DMU LM)
York – Newcastle Semi-Fast Service (Class 171 DMU S)
Newcastle – Darlington Daily Service (Class 170 DMU CT)
Bath- Templecombe Local Service (Class 171 DMU S)
Templecombe – Bath Daily Service 04 (Class 170 DMU CT)
Seeberg – Dissen Skiers Special (Class 171 DMU S)
Siegen – Hagen Daily Service (Class 170 DMU SP)
Glasgow – Lanark Daily Service (Class 170 DMU ScotRail)
Bridgeton – Glagow Central Local Service (Class 170 DMU SotRail)
RAS Railworks Activities Vol.3 (Railworks with WCML North, Class 390 & Class 66 required.)
Class 390 First Test (Class 390 EMU InterCity Swallow)
Almsfeld – Dissen Express (Class 390 EMU GNER)
Siegen – Hagen Daily Express (Class 390 EMU LMS Red)
Carlisle – Glasgow Central Express (Class 390 EMU InterCity Swallow)
Glasgow Central – Carlisle Express (Class 390 EMI InterCity)
Oxford – Paddington Express (Class 66 Red)
Freight and Goods for Dissen (Class 66 Malcom Rail)
Seebergbahn Daily Freight Service (Class 66 Malcom Rail)
Nuclear Freight (Class 66 Malcom Rail)
Cattle & Sheep Fright (Class 66 Green)
Various Goods & Freight Service (Class 66 Blue)
Goods & Fuel Freight (Class 66 Red)
RAS Railworks Activities Vol.4 (Railworks with the WCML North, Class 86 and Class 101 DMU required.)
Bath School Train Service (Class 101 DTCL Regional)
Binegar – Templecombe Local Service (Class 101 DMBS BR White)
Bath – Templecombe Semi-Fast Service (Class 101 DMCL BR Grey)
Newcastle – Darlington – Newcastle Service (Class 101 DMCL Blue HC)
York – Newcastle Daily Service (Class 101 DMCL Blue HC)
Glasgow Central Morning Service (Class 101 DMBS BR Green)
Glasgow Central Lanark Service (Class 86 Rail Express Systems)
WCML North FreightLiner Service 01 (Class 86 FreightLiner Green)
WCML North FreightLiner Service 02 (Class 86 FreightLiner Powerhaul)
WCML North Freight Liner Service 03 "Combi" (Class 86 FreightLiner Green)
WCML North FreightLiner Night Service 01 (Class 86 FreightLiner Powerhaul)
Carlisle – Local Special Service 01 (Class 380 EMU ScotRail)
RAS Railworks Activities Vol.5 (Railworks with SD70 Vol.2, EMD F7, ES44AC and the Class 220 Voyager & 221 Super Voyager required.)
Freight Train SD70 Ace 9010 (EMD SD70M-2 Norfolk Southern
Freight Train SD70 Ace 9011 (EMD SD70 Ace BNSF)
Freight Train ES44AC 9010 (ES44AC UP Heritage)
Barstow – San Bernardino Daily Service 01 (EMD F7 UPRR)
Monument – Castle Rock Monument Daily Service 01 (F7A Engine)
Monument Freight Train ES44AC (GE ES44AC UP)
York – Newcastle InterCity Express 01 (Class 220 Voyager DMF VT)
York – Darlington – York Express 01 (Class 220 Voyager DMSL VT)
Paddington – Oxford Express (Class 221 Super Voyager DMF CC)
Oxford – Paddington Express (Class 221 Super Voyager DMSL CC)
Siegen – Hagen Express Service (Class 221 Super Voyager DMSL German)
Seebergbahn Express (Class 220 DMSL German)
Video
Submit a review of this product