This addon is compatible with
Microsoft Flight Simulator X
. It should also work with
Microsoft Flight Simulator X: Steam Edition
. Some developers have explicitly stated compatibilty with Steam Edition but others haven't. Check the product description below for guaranteed compatibility. Just because it doesn't mention it, this does not mean it will not work with the
Steam Edition
.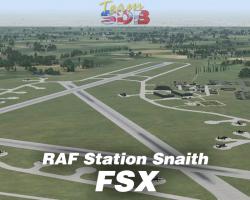 Media Format

Immediate Download

Compatibility

Microsoft Flight Simulator X inc. Steam Edition & Prepar3D

File size

25 MB
Throughout history, the Royal Air Force has used many different locations as air bases to help establish greater dominance over the skies in times of war and battle. In FSX, you get to visit many of these different bases in their modern guises – but many prominent airfields of the past have been lost to us. As airfields have become modernized and more commercially based, the need for military-specific air bases has actually reduced as the years have gone by.
Alongside the larger airfields opening and the dwindling usage of airbases, with many armed forces preferring air carriers, many of the most commonly used airbases in the Second World War today are doing something entirely different. If you would rather visit some of these air bases in their old form rather than the industrial estate or private airfields they have become in recent years, then this RAF re-imagination is exactly what you need.
This is a re-creation of the RAF Station Snaith, which was found in Yorkshire, England. It was commonly used throughout the Second World War as a starting point for many groups of Vickers Wellingtons. It first opened in 1941, and closed in 1946 having been a part of the Allied front. At the beginning, the airfield was used by many different squadrons, including RAF Kirmingtons and Handley Page Halifax aircraft. It's this versatility that made the airfield so useful during the war, as well as it's comfortable positioning in Goole, Yorkshire.
Although today the airfield is effectively unused due to the M62 motorway slicing the airfield in half, this re-creation of the airfield brings it back to the way it was once designed to give Second World War veterans or historians the chance to really take in a close design of the base.
With deep detail and research going into the discovery of the original layout and style, this is the closest representation that you will find of the Snaith airfield. Although new buildings have been re-designed and imagined, technical buildings and hangers are all based as closely as possible of Second World War era architecture to make sure that the integrity and style of the airfield is maintained at all costs.
The Scenery
The main aim of this scenery package was to place the airfield back in the 1940s, so that you can see just what it was like to use this airfield. Because many of the iconic Second World War airfields are now doing something else entirely or gone, the scenery has been designed to perfectly capture the atmosphere and style of an old-school airfield base so that you can get the closest thing possible to actually being there in person.
The textures have been designed from scratch, even trying to capture the same type of ground that you would have found in a traditional Yorkshire airfield in the 1940s. The textures have also been included for different seasons, so that the airfield will change its look and feel depending on what time of year it is – if you are looking for an authentic representation of what an airfield would have looked like in both summer & winter then you just need to change the settings in-game!

For those who prefer flying at night because of the quieter traffic, the large and easily spotted lights used by the Snaith airfield makes it almost impossible to miss for those flying there for the first time. It also makes landing and taking off at night easier, as the closer you get the easier it is see the entire ground below, and with HD textures keeping the entire picture very crisp you can use the lighting to perfect your landings in Yorkshire

A huge selection of buildings has been totally created from scratch, including the hangers & support buildings. Utilizing old footage and photography, the creators were able to make a realistic representation of what an old hanger would have looked like during the Second World War to give you a more complete image of the airfield itself. With every facet and detail covered, you can make sure that the airfield you are in truly looks and feels like the busy place it once was

Weapon storage areas have also been custom designed, alongside a technical area for dishing out instructions to any nearby pilots in the sky. These buildings are designed using inspiration from various buildings from that era, as some of these buildings were not originally found in any of the images of the old airfield that were found

Navigation aids are available from the radio for any pilots who are incoming to the base, with the NDB giving you an easy route back to the airfield. This adds extra authenticity as back then, there wouldn't have been the same abundance of radar technology available – so making your own back using the radio as your guide can be a great challenge for some!

Included in the airfield are a team of Al Handley Page Halifax Bombers of the 51 Squadron in the RAF. They were some of the main users of the airfield at one stage, and they are added in to give the area an extra feel of true efficiency and as a nod to the pilots who used to take from this airfield

Performing a wide variety of touch-and-go landings to and from the airbase, at 19:00 Zulu the bombers will take off for Cologne, Germany to initiate a bombing run. Why not go along with these brave bombers and see just how these attacks went? The AI has been recreated to give them an optimum flight path, so you can tag along without any hassles!

Designed as homage to the old airfields of years gone by, this is a re-design of the airfield as it would have looked in the year of 1943-44. Although the airfield was used until 1946, the changes that have been made to the airfield to fits its prime years means that extra activity and energy is always surrounding the airfield
Submit a review of this product
Customers Also Purchased